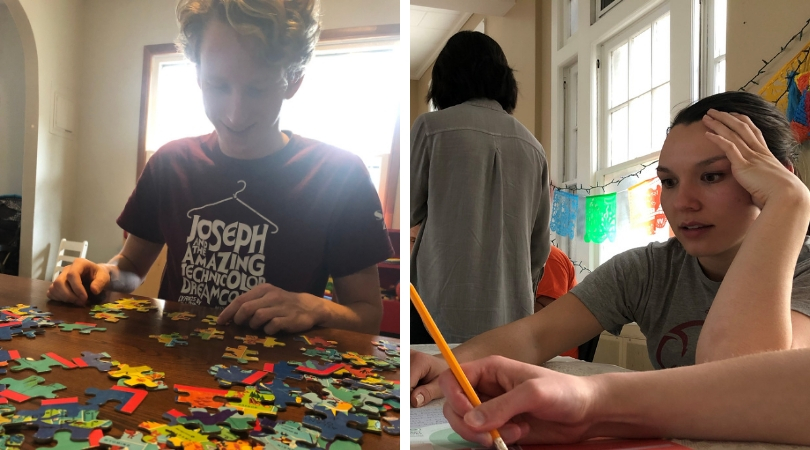 Seeking Refuge – Reflections from BWAP San Antonio
In January 2019 thirteen folks from Pres House traveled to San Antonio, Texas for a week-long Break With A Purpose. They met migrants seeking asylum and learned about immigration at the southern border. Seven participants shared reflections in worship on Sunday 1/27 and on this blog. You can link to all their reflections via this post. Two of their reflections are below. You can also listen to these same reflections here. 
---
La Casa
By Emily Johnson
While making their journey to the United States, migrants forgo a number of things in the name of relocation. They forfeit familiar surroundings, direct contact with family and friends, reliable access to food and water, and—what may be their most obvious loss—their home.  Not only is the physical security of a home lost, but so too is the emotional comfort that is often found inside.
Fortunately, this painful loss caught the attention of a man named John, a pastor of a San Antonio Mennonite church whom our group met at the outset of our trip. He was inspired to develop a space that evokes home, even if only for a night. John and his colleagues purchased a several bedroom house they call La Casa in response to the families that crowd in a nearby Greyhound bus station, waiting hours or days for the next bus that will take them deeper into the US. Instead of spending the night in a poorly ventilated and bed-less bus station, as many are forced to do, John invites families to stay at La Casa, free of any charge or stipulation. The interior of this home has been furnished liberally with supplies fit for adults, children, new mothers, and infants, so that families may again feel the softness of a bed, the warmth of a shower, and the scent of freshly washed clothes. At La Casa parents can bathe their children and prepare them breakfast. Kids can play board games and serve their parents plates of play food. And most importantly, at La Casa families are treated as valued human beings.
On our third evening in San Antonio, Erik and I received an invitation to spend the night at La Casa. We were called to relieve Josephine, the saintly woman who typically spends her nights in a small and simple room of the house to ensure the safety of families throughout the night, and always in the company of the resident therapy dog, Patches. Erik and I were delegated this role for a night, and while we brought with us an extensive knowledge of Spanish, we also lugged a great deal of naiveté and uncertainty regarding the evening that lay ahead.
---
Authority
By Erik Franze
Emily and I began our night hosting La Casa by accompanying the five Garifuna (an Afro Caribbean population) families from Honduras who would be staying with us to the house itself via our trusty steed, a van named Mo Ranch, that Mark dutifully drove our group and migrants in throughout the course of the week. Admittedly, we had no idea what we were about to get ourselves into, but I for one quelled my nervousness by paying attention to the father and daughter who sat behind me on the bus trip. The daughter, a young girl of 8 years old, pressed her face against the glass as we passed a horse-drawn carriage decked out in lights for night time rides that I would've disdained as tacky and touristy. "Mira, papi!" or "Look, Daddy!" she repeated excitedly to her father, visibly entranced by the sight. I could only wonder how long it had been since she had been able to feel this kind of unrestrained joy. This is a tiny detail I will never forget, one of the many special memories from our trip. It reoriented my perspective around sights I may dismiss due to my own ignorance or privilege. Also, it represents larger themes that Becca will touch on later – in the face of such daunting spiritual hopelessness and racist societal systems,it seems that true difference takes form in simple acknowledgements of the humanity of migrants that is frequently attacked along their trek to the U.S.
Throughout the night at La Casa, some of these little actions added up. Emily and I found ourselves staying up late into the night to play board games with a particularly talkative and intelligent preteen named Dulce and helping parents call and text their sponsors to arrange bus travel for the next morning. John would call us with a financial or logistical update, and basically defer all authority, asking us to do what we thought was best for the family and their situation. In the moment, I think our sense of urgency disregarded any concerns of incompetency, and we worked together to cross cultural and linguistic barriers. Reflecting back, this shows a great deal of trust from strangers, both churches and immigrant justice organizations, and migrants themselves, in a pair of kids they had just met. I admire this and think it can reveal powerful lessons of belief in human decency of and for all. Our experience at La Casa also required quite a lot of unwavering trust in each other and in God from all parties. From our perspective, Emily and I had no experience in hosting a shelter; we just had to do our best to demonstrate compassion for people who had gone through seemingly ceaseless challenges that Steven described earlier. It is profound that leaders in San Antonio entrusted us with such authority, but as I later realized, is also just intrinsic hope in humanity.
With this level of trust comes natural subversion of established precedents of authority. Rather than rely on confusing and discriminatory governmental procedures, activists that we met in San Antonio circumvent political forces like the Obama or Trump administrations that have been ineffective at best and xenophobic at worst on immigration. This necessity, due to our government's failures, to improvise and use one's own immediate resources was very apparent just in the request for newfound hosts at La Casa, but I would argue is also an ability. An ability to recognize a call from God in wild, crazy times to work for love and justice and then boldly respond. Stories from the Bible, like that of God calling out to Samuel, and people of faith throughout centuries point to God's calls in unexpected ways, to unexpected people led to unexpected opportunities. In order to get beyond this unexpectedness, I would encourage everyone to cast aside their own self-doubts about their abilities and to take risks in God's name for real peace and change.
The group at La Casa had been traveling together for over a month, and shared food, clothes, and baby formula across racial and ethnic lines. Witnessing the friendliness and love between these Hondurans and towards us that evening undeniably strengthened my faith and commitment to everyone as people deserving protection. When I checked to make sure everyone in La Casa was alright before bed and knew about the next day's departure schedule, I came across one of the fathers rocking his newborn back and forth and reading aloud from the Bible. He unexpectedly paused his loving fatherly duties to ask me about my own background. This was a moment of grace I did not anticipate. Why would a man who has struggled so much for his family recently take the time to learn about my story? Because he too believes in the restoration of humanity for all through godly care, something particularly needed today for migrants like him. From our first day spent touring the hidden histories of people of color relating to The Alamo with another one of our local leaders, Elizabeth Le'anani Biedrzycki, to spending the night at La Casa, and even to our later hands-on work on home repair, we were called to move past expectations of who is authorized to do what and reframe our relationships with love and service.
I did not expect upon my arrival in San Antonio to host a migrant shelter for a night.  I am frankly still uncertain as to whether Emily and I were qualified for this. However, I came to realize through prayer and ponderance, as I think many of my fellow BWAP sojourners did as well, that traditional authority is unimportant when there is a pressing need to demonstrate God's love tangibly.