Listening to Sunday Sermons
Listen to Sunday Sermons by clicking the links below. You can also subscribe to the Pres House sermon podcast on iTunes. If you have trouble with the links below try downloading the file to your computer/device before playing it.
For Sunday Sermons from past semesters visit the Sermon Archive page. During the summer months (mid-May through mid-August), we do not record sermons; instead, join us for Church Unbound mid-week for worship outside the walls.
SPRING 2020
FAITH FACING FEAR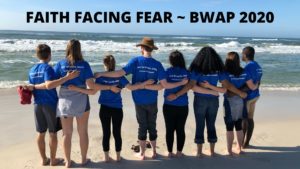 "Faith Facing Fear" ~ 01.19.2020
Isaiah 43:1-3 A (Rev. Erica Liu)
"Walking in the Path of Jesus" ~ 01.26.2020
Isaiah 2:2-4; Luke 6:27-31 (Rev. Deanna Hollas)
"Forgotten Stories Reflecting On BWAP 2020" ~ 02.02.2020
Luke 10:25-37 (Students Silas S., Theresa S., Shaniya A., Evan D.)
Silas's Story – 9:50
Theresa's Story – 13:27
Shaniya's Story – 17:03
Evan's Story – 20:26
BOOK OF RUTH
"Where You Go, I Will Go" ~ 02.09.2020
Ruth 1:1-18 (Rev. Mark Elsdon)
"Foreigner" ~ 02.16.2020
Ruth 2 (Rev. Erica Liu)
"A Scandalous Kindness" ~ 02.23.2020
Ruth 3:1-11 (Rev. Mark Elsdon)
LENT: GROWING WITH PETER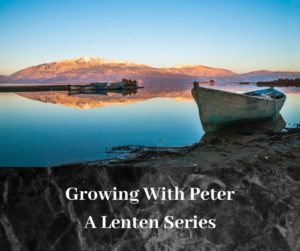 "A New Kind of Fisherman" ~ 03.01.2020
Luke 5:1-11 (Rev. Erica Liu)
"Boat of Indecision" ~ 03.08.2020
Matthew 14:22-33 (Rev. Erica Liu)
COVID-19 Interlude – A break in our series to address the global pandemic
"Wilderness Lessons for Covid-19" ~ 03.15.2020
Isaiah 43:1-3 (Rev. Erica Liu)
Video recording
Read the reflection on our blog
"Psalm 23: A Song for Scary Times" ~
03.22.2020
Psalm 23 (Rev. Erica Liu)
Video recording
"Lazarus: A Glimpse of Resurrection" ~ 03.29.2020
John 11:1-44 (Rebecca Bedell)
Video recording
Lazarus – A Glimpse of Resurrection (Text)
"The Longest Week" ~ 04.05.2020
Matthew 21:1-11 (Rev. Erica Liu)
Video recording
"A New Normal" ~ 04.12.2020
John 21:15-19 (Rev. Erica Liu)
Video recording

EARTH DAY
"Creation Care Amidst Crises" ~ 04.19.20
Romans 8:19-27 (Erik Franze)
Video recording
Sermon Text ~ Creation Care Amidst Crises
GRADUATION SUNDAY ~ PART I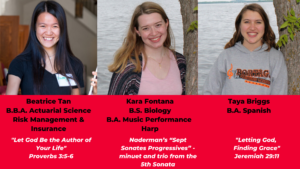 "Senior Reflections" ~ 04.26.20
Let God be the Author of Your Life (Beatrice Tan)
Sept Sonates Progressives (Kara Fontana)
Letting Go, Finding Grace (Taya Briggs)
Video recording
GRADUATION SUNDAY ~ PART II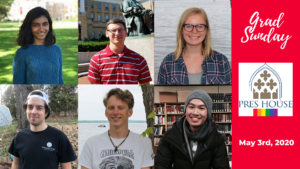 "Senior Reflections Part II" ~ 05.03.20
Isaiah 40:28-31 (Alisha Zachariah)
God's Grace in Action (Nathan Burwell)
Becoming All of Who You Are (Jessica Prom)
Cello Suite No. 1 Prelude (Grant Wickman)
Home is Where the Heart is (Erik Franze)
Journey (Joshua Tan)
Video Recording