Listening to Sunday Sermons
Listen to Sunday Sermons by clicking the links below. You can also subscribe to the Pres House sermon podcast on iTunes. If you have trouble with the links below try downloading the file to your computer/device before playing it.
For Sunday Sermons from past semesters visit the Sermon Archive page. During the summer months (mid-May through mid-August), we do not record sermons; instead, join us for Church Unbound mid-week for worship outside the walls.
Spring 2019
BWAP TEAM 2019
Immigration: Reflections from San Antonio ~ 01.27.19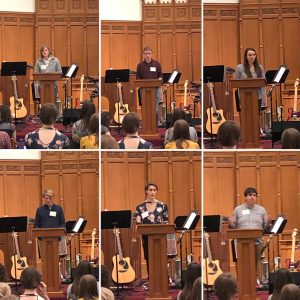 A group of people went spent a week in San Antonio, Texas in January 2019 for our annual "Break With A Purpose" trip to learn about immigration in the U.S. They share about their experiences.
Introduction and Biblical Stories ~ 01.27.19
Exodus 1:8-22; Matthew 2:1-15 (Silas Setterstrom and Abbey Zacharski)
Leaving Home ~ 01.27.19
(Clare Aeschbacher and Steven Martell)
Seeking Refuge ~ 01.27.19
(Emily Johnson and Erik Franze)
See Something, Do Something ~ 01.27.19
(Becca Bedell and Samuel Acuña)
WATER: A JOURNEY TOWARDS BAPTISM
Created in Joy ~ 01.20.19
John 2:1-11 (Rev. Erica Liu)
The Power of Water ~ 02.03.19
Genesis 6:5-22, 7:17-24; 8:1-3, 14-21 (Rev. Mark Elsdon)
Bittersweet Water ~ 02.10.19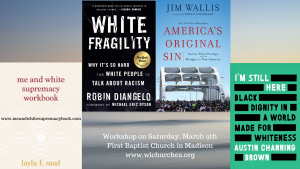 Exodus 15:22-25 (Rev. Erica Liu)
Suggested action steps to respond:
Me & White Supremacy Workbook
America's Original Sin
White Fragility
Winter Forum with Austin Channing Brown, March 9th

Waterfalls of Justice ~ 02.17.19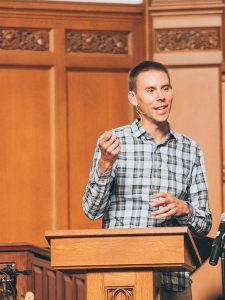 Amos 5:10-12, 18-24 (Rev. Mark Elsdon)

Shall We Drink? ~ 02.24.19
John 4:4-42 (Rev. Erica Liu)

Look, Here is Water! ~ 03.03.19
Acts 8:26-40 (Rev. Mark Elsdon)
Baptism ~ 03.03.19
(Rebecca Bedell and Alexis Terry)
LENT: THE DISCIPLINE OF BEING BLESSED
Tuning to God ~ 03.10.19
Matthew 5:1-3; Luke 16:19-31 (Rev. Erica Liu)
When Faith is Uncomfortable ~ 03.24.19
Matthew 15:21-28; 5:5 (Becca Bedell)
What Are You Hungry For? ~ 03.31.19
Luke 18:1-8; Matthew 5:6 (Ginger Morgan)
Unfair God ~ 04.07.19
Matthew 18:21-35; Matthew 5:7 (Rev. Erica Liu)
Seeing God ~ 04.14.19
Matthew 21:1-11; Matthew 5:8 (Rev. Mark Elsdon)
EASTER SUNDAY
Making Gardens ~ 04.21.19
John 20:1-23; Matthew 5:9-12 (Rev. Erica Liu)
VOLUNTEER & DONOR APPRECIATION
Running Together ~ 04.28.19
Hebrews 12:1-2 (Rev. Mark Elsdon)
(Watch the video referenced in the sermon here.)
Personal Story ~ 04.28.19
(Silas Setterstrom and Alisha Zachariah)
GRADUATION SUNDAY
Graduation Reflections ~ 05.05.19
Mishka Ligot
Becca Bedell
Clare Aeschbacher
Samuel Acuna