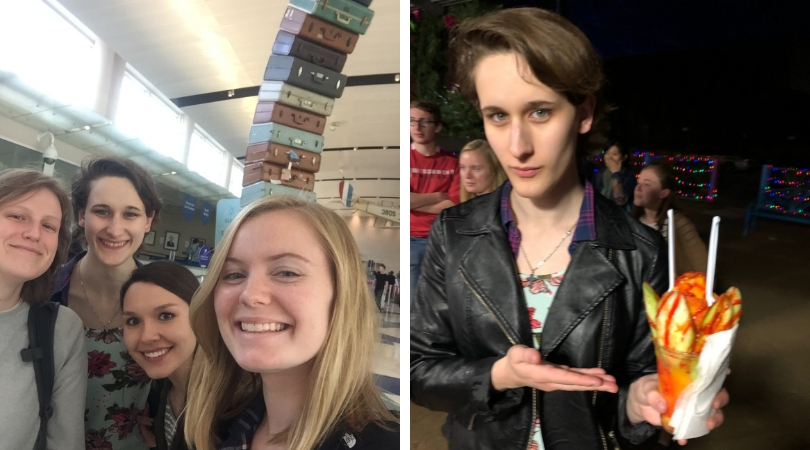 A World of Difference – Reflection from BWAP San Antonio
In January 2019 thirteen folks from Pres House traveled to San Antonio, Texas for a week-long Break With A Purpose. They met migrants seeking asylum and learned about immigration at the southern border. Seven participants shared reflections in worship on Sunday 1/27 and on this blog. You can link to all their reflections via this post. Becca's reflection is here below. You can also listen to this same reflection here. 
---
A World of Difference
By Becca Bedell
On our first full day working with immigrant families, our team split up.  Some went to La Casa, the shelter home. The rest of us split between the Greyhound bus station and San Antonio Airport, where ICE detention center buses were unloading.  We were to meet with volunteers from the Interfaith Welcome Coalition, helping refugee families find their transportation. These were the relatively lucky ones, with family members or sponsors in the US who bought them bus and plane tickets to different states where they will wait for their asylum requests to process.
Minutes after Emily, Clare, Jessica, and I arrived at the airport and met with the Interfaith volunteers, a grey, soulless prison bus arrived. We greeted about fifty women and children, all clad in matching government-issued sweatpants and jackets, carrying a few possessions in cloth and Ziploc bags.  In groups, acting as translators, we helped them print boarding passes, escorted them through security and to their gates, where we tried to explain their next steps.  Meanwhile, our team at the bus station similarly explained the convoluted bus tickets, schedules, and transfers for the often multi-day, cross-country journeys ahead.
To me, familiar airport annoyances became deeply daunting when seen through the refugees' eyes.  One woman pointed out other passengers staring at their clothes, and said, "it's so obvious we're immigrants."  We discussed why there is no shame in that identity. Mothers asked me questions that I had never considered needing to answer: how to know when to board the airplane, what door to walk through, whether they would be separated from their children again.  In my second language I tried to explain how to change planes, as many had to do, where I prayed airport staff would be merciful enough to help.
Collecting her shoes from one of the grey bins, one woman said to me, in Spanish, "I don't know how we could do this without you."  I kept saying, "lo pueden hacer. Ustedes son tan valientes." "You can do it. You are so brave." We had learned, as Steven shared, how these moms and kids may have leapt trains, endured human trafficking and detention center torture to even make it this far.  Who was I but a face in the blur, one hesitant smile in a continent of uncertainty? Who was I to deserve their thanks?
Now I think there is a paradox, a double truth central to these refugee experiences: as the Mennonite pastor we worked with said, if we weren't here, they'd be OK! They'd find a way, because they have to. And yet, they need all the help they can get. Both are true—our volunteering may have made a minuscule difference, but it also made a world of difference.  I was surprised by how little fear the families showed: above all, the mothers seemed focused on their next goals, driven by familial love, survival, and, usually, a deep faith in God. We saw trauma and hope coexisting.
What comes next for these families?  I would ask, "¿a dónde van?" "Where are you going?"  Some to New York, New Jersey, California, Florida. Some to family, some seemingly had no connections at all.  I asked, "Do you know what you'll do when you arrive?" The usual response: "no." We learned that as refugees from Central America wait months or years for their court dates, they are not allowed to work, despite wanting and needing to support themselves and their children.  And then, about 90 percent will have their asylum applications rejected, and they will be deported back to their hellishly violent countries.
Many asylum seekers know how slim their chances are, and come anyway, chasing a safer life.  What do we do with such vast pain? I found myself tearfully overwhelmed by what seemed like hopelessness, my faith deeply in crisis.  But I allowed myself to become equally overwhelmed with the generosity and selfless work of so many volunteers fighting for more competent and compassionate immigration justice.  The way we were called to throw ourselves into this hard, crucial work, even just for a few days.  The way Erik and Emily stepped up at the end of an exhausting day to host families overnight at La Casa.  I think of the kids laughing over toy cars with Clare and Jessica on the airport floor, how helping someone feel just a little bit safer can help them feel more human.  What I'm clinging to is the ability within all of us to see wrong in the world, and to offer help.