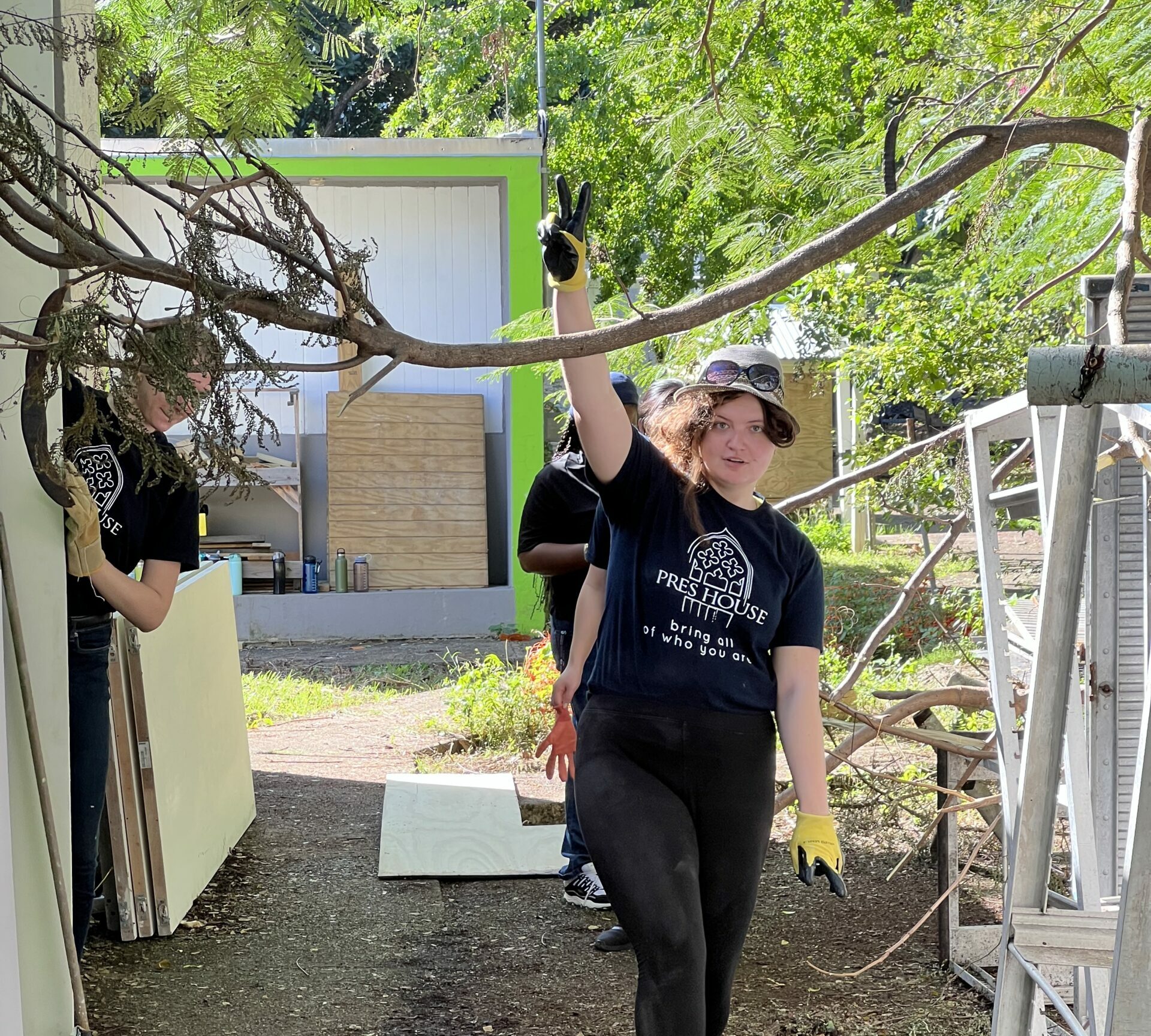 Maddy Peppard ~ Grad Reflection
Confidence is often marketed to us as a one-size-fits-all solution to our problems. If we just had confidence, we would get the job, have the relationship of our dreams, and run marathons in record time. But the truth is, confidence can fluctuate as much as the quality of the products you buy with the hope of becoming confident. On top of this, systemic pressures, like racism and sexism, understandably impede our confidence and sense of belonging. Throughout my brief but dynamic time at Pres House, I have learned to embrace the value of courage over confidence because I believe that courage has more agency and activation energy behind it. Truth be told, some of the moments where courage was the most required thing to bring to the table from me were when I wasn't feeling particularly confident. One of these things was re-entering the Pres House community in the fall of 2022 after several months of not thinking that I would return at all.
Throughout my life, I've had a nagging sense of "newness" in the environments I put myself in. I often come back to Fall 2008 — yes, that Fall 2008 — as an extremely pivotal year in my young life. At seven years old, I was a new student at a large elementary school. I was living with an undiagnosed disability at the time, and despite the well-intentioned attempts of my mom to put me in Girl Scouts or club soccer, I still had a hard time making friends, despite really, really wanting to. I wasn't aware at the time, but I now realize that I had internalized the circumstances I was in as a reflection of how people, and how the world, worked. And this feeling of newness and its grown-up manifestation of imposter syndrome are still things that I am confronting in myself to this day. It is one that is reawakened in me every time I do something like transfer to a new school or join a new club. For me, having courage means to catch these feelings, recognize and work through their impacts, and release them, and living them out as a member of a beloved community like the one here at Pres House.
There is another type of courage that I have explored during my time in college and at Pres House, and that is the courage to enter a community that was completely different from the church that I grew up in while also sharing a faith background with me. While I don't harbor any resentment towards my previous community, I knew I wanted to learn how others worship and see if there was room for mutual appreciation, intellectual challenges, and exploring the place that art and creativity have in our spiritual journeys. Well, I can safely say that from the first week I was here, those opportunities were delivered. I once heard the quote that our relationships improve with each difficult conversation we are willing to have — in fact, it might have been Nii Addo who said that. The same is true for our faith. In Faith and Antiracism, both Break with a Purpose Trips to Fort McCoy and Puerto Rico, and on the various retreats I've been at here with Pres House, I was challenged intellectually and also spiritually. Not all of it was pleasant and sometimes I wanted to claw these thoughts and feelings out of my brain and just get to the easy part already. However, discussing the urgent and ever-present calling to be an anti-racist agent in our world and a member of a faith community or considering the role that Christians can play in combating the climate crisis are some of the most empowered and connected I felt to the people around me. I was so used to keeping my thoughts to myself on these issues because I didn't think anyone would be interested in talking about them — until I got to Pres House. It wasn't confidence that made these conversations worthwhile; in fact, it sort of took a backseat role in these conversations. But it was courage to know when to speak, know when to listen, and how to interact with others on pressing issues.
You could argue that courage requires a sort of confidence in oneself, and I would agree. But I think that confidence is built, long term, from acts of courage. I'm gonna let you in on a secret. "Courage" is inside the word "encourage." You're welcome; thank me later. But I bring this up because I think that courage is often discussed as an entirely personal journey one must go through, and not something that can be found with help and in community. But if this were the case, then encouragement would have no place in our journey to courage, and this has simply not been the case for me. Without encouragement from Erica and Nii Addo and just the freedom to be myself in their presence, it would have been nearly impossible to develop the courage I needed to fully immerse myself in the community here. I would have never had the opportunity to make my Great Grandma's meringues for Midweek Morsels, or have impromptu trips to Colectivo with my friends here, no study-time-devolving-into-talking-about-anything-but-studying time, and none of the lasting friendships I have made. The beautiful thing about feeling "new" is that I am able to connect with other people who also feel "new" or "out of place"- and almost everyone has felt this way at once. And I hope you find the courage to confront whatever things are holding you back from immersing yourself in new communities or adventures in the future. Maybe in doing so, you will also find confidence on the side. I am forever grateful for all of the tools that Pres House and that God has given me to find courage during my time in college, and I am looking forward to sharing this encouragement with whomever I encounter in the future.
Maddy is graduating with a B.S. in Community and Nonprofit Leadership.