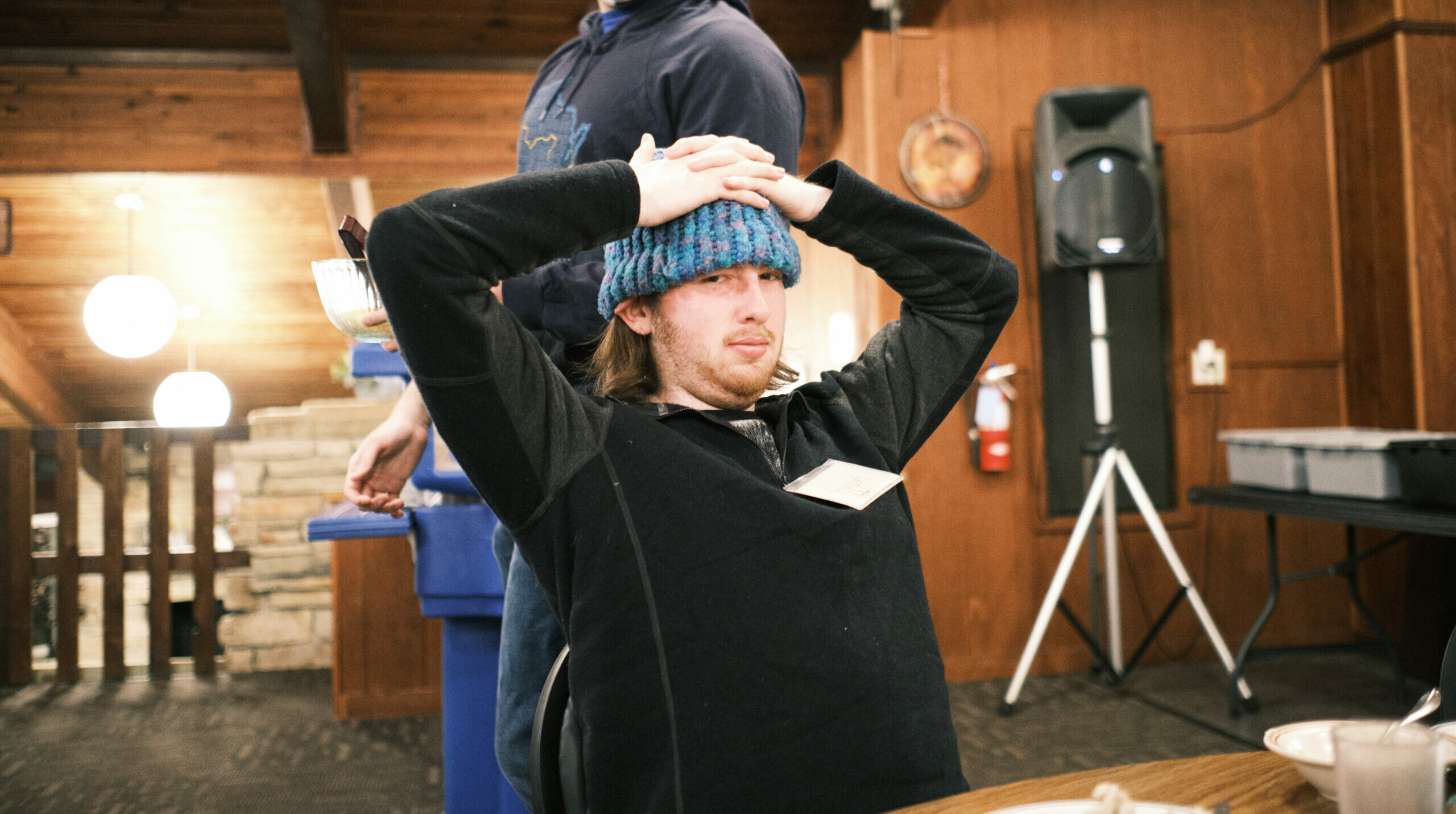 Evan Digman ~ Grad Reflection
It's a privilege to speak today and celebrate the past four years. For me, Pres House is that, a home; one that provides shelter, warmth, and rest. I've found simple joys like coffee and conversation, and making music with friends. There've been interesting moments as well, like calling Erica at 9:30 pm because the fire alarms were going off, spending 30 minutes getting the Pridham lounge doors locked, and trying to fit as many people as possible downstairs for trivia. It's magical to be a part of what we create in this home. Whether it's collaborative poems at retreat or bread for communion, we make beautiful things together. I love that Pres House is constantly undergoing renovation and evolving as new people arrive and new years begin.
There are many moments that capture why I call this place home. Often they were simple and ordinary. I remember an older student listening to me talk about sciencey things during my first week and being amazed they cared what I had to say. Another time, driving with Andrea to get Jimmy Johns during BWAP at Ft. McCoy and chatting about the week, how cold it was, and challenging family stuff going on. I remember Erica calling me to check in during the 2020 protests in Minnesota and Nii Addo's caring response once over winter break when I reached out for support.
Homes can be messy. I've shown up here in all sorts of states. Some days I felt like a freshly blooming flower on the kitchen table; others, a dirty pile of laundry, spilled coffee, or burning hot coals in the fireplace. Perhaps I was distracted by the to-do list on the fridge or avoiding some spring cleaning of my mind. Whether I came scattered, joyful, or angry, each time I stepped over the doormat that reads, "Come as you are."
To be honest with you, there've been times I've wondered why even bother showing up or what it mattered if I was here. Sometimes it's hard for me to trust people enough to be real and honestly share what's going on with me. I've been in relationships where the truth was warped and used against me. But I've found the safety to practice honesty here. I've been humbled and held as I opened up to friends about doubts of faith, challenges of loss, and questions of identity.
Homes provide shelter, no matter the weather. A home's foundation provides the integrity to withstand strong winds and storms. Pres House's spiritual foundation, coupled with its openness to bear witness to all of life's seasons, has been a deep support for me. Looking back, I've been through a lot and I've grown so much. I see that having a place like this, grounded in love for God and each other, has deeply shaped how I move in my life. I always leave differently than when I arrived, often fed in ways I didn't anticipate.
On sunny days, the rays shine into the chapel, and I get to sing praises to God! What a joy! And some days there's thunder, and Pres House is a shelter, a home to stay in when there are no words for my grief. I've traveled into the desert during my time here; close relationships ending, a friend's death my first year, and illness in my family. And, in the desert, I found myself in good company. I remember feeling so moved during Winter Retreat last year when folks shared personal writing and poems. Together we buried what needed composting and letting go into the soil so that new seeds could be planted in our lives. Our home's shared garden is a true offering of the heart, especially in our vulnerability.
I'm reminded of the words of the prophet Isaiah: "Those who lived in a land of deep darkness — on them light has shined." (Isaiah 9:2b) Here, love's transformative power reflects light into the shadows. It helps me keep my heart open, even when fear says to close it. Homes are shelters for all seasons and fulfill different needs at different times. Homes can remind us of the Earth they are built on. Homes can be containers of meaning and belonging and a place of safety to integrate parts of ourselves we want to hide. Pres House has been all of this for me.
Though I'll be here next year for grad school, it won't be the same without my senior pals. You all rock, inspire me and give me hope for this world. I'm grateful for our time together. For those here in the years to come, I invite you to be honest and open up, laugh and cry with your friends, and experience the full spectrum of this home in all of life's seasons. I encourage you to care for this place and remember God and those who came before you and laid bricks for this home's foundation. Thank you.
Evan is graduating with a B.S. in Pharmacology and Toxicology.