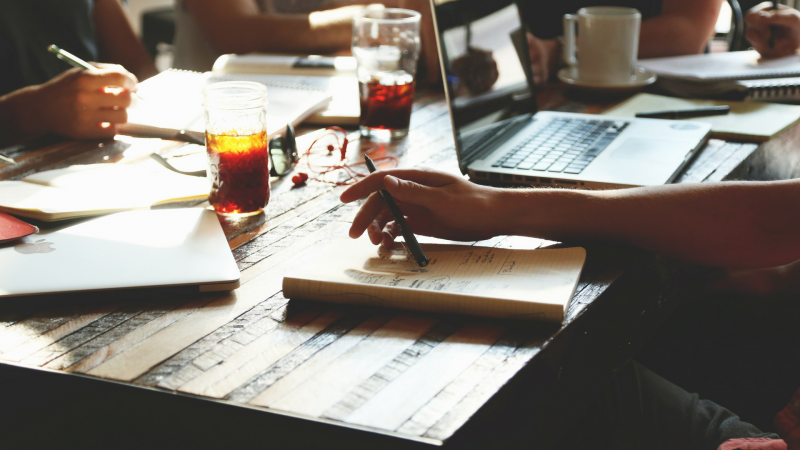 "What I Wish I Knew" – Advice for New Graduate Students
We asked experienced graduate students at UW-Madison what they wished they knew when they started as a new grad student. We hope you can learn from their advice for new graduate students! And this is just some of their wisdom. Come on over to Pres House on Tuesday, September 10 at 7pm for "What I Wish I Knew as a New Grad Student" to meet other grad students, enjoy dessert, and hear first-hand from experienced students what they wish they had known as new graduate students. And check out how to get connected to the Graduate Student Fellowship at Pres House. So here it is: "What I wish I knew" – advice for new graduate students:
ON MOVING: What was something you wish you had brought with you to Madison that you didn't? What was something you brought that you didn't need?
I wish I brought a bike to Madison.

I moved here with just one suitcase, so I ended up needing a lot. If there's one thing that's been a boon, it's my slow cooker. Cook food for the entire week in 20 minutes!!
ON BEING A GRADUATE STUDENT: Being a graduate student is different from the undergraduate experience–what are some specific and unique things that are good to know about grad life?
Don't treat it like continuing your undergraduate schooling—treat it like a job and getting training to perform your job better. This means putting in full days on campus and focusing on actually learning material, not just barely passing courses.

It's important to take a break and relax. I have personally suffered from the feelings of guilt when I was first learning to be a graduate student. Don't let your constant need to work all the time, stop you from having friends, sleeping, exercising, and playing. Remember to stay healthy.

All grad students are in the same boat. Sometimes your research won't work, and sometimes projects are really frustrating. The most important part is to keep trying something new every day. Failed experiments do not reflect your ability to do research, and do not associate the success of your research project with your self worth. Be sure you find something outside of school to find enjoyment for the tough research days.
ON SUPPORT: Where are some places/resources on campus and in Madison you wish you knew about sooner and why?
The UHS (University Health Services) facility is a nice place to pop in for quick check-ups when having any small health problem and is much faster than going to a doctors office. For engineering students, the "COE Team" shop along with the Makerspace are both great for getting stuff built.

I wish I knew where the campus LGBTQ+ center was sooner, as it could have been an encouraging resource for me.
ON CHALLENGES: What were some unexpected challenges during the first year of graduate school and what helped?
I was surprised by how time intensive the first year of grad school was. Classes, teaching, and research filled my schedule as full as possible. One thing that helped when I felt overwhelmed was actually planning time to do literally anything else (usually with friends). Not only did this give me something to look forward to during the week, it made me stop thinking about school, which was a mental break I really needed. Find a group (Pres House!) that will let you recenter and get your mind off school for a while.

I suffered from "impostor syndrome" near the end of my first year. I started questioning my accomplishments and focusing my energy on the "what-ifs" related to school and the negative possibilities that may result in my future if I didn't understand a topic or felt I did poorly on a test. Self-talk and meditation was helpful, as well as remembering to step back, making time to see friends, take care of myself and exercise. Structured activities at Pres House also helped me realize that I was not the only one who questioned life decisions and participated in thought-provoking and honest conversations with others.
ON BALANCE: Graduate school can be demanding and all consuming–what are some tips you have for maintaining a healthy and sane life balance and keeping perspective?
Don't think that "real life" doesn't start until you have graduated. "real life" is now. Live the life you want now, dont think you are just in this temporary phase that is somehow incomplete.

Sabbath! It helps to pick out one day on which you don't feel bad for not working. It both motivates you to finish up what you're doing on the day before, and keep procrastination activities (e.g. Netflix bingeing) to a minimum by giving you the decision to do that on your off day.
FAVORITES: 1. Restaurant and dish to order, 2. Place to meet people, 3. New activity to try, 4. Off campus spot to visit, 5. Can't miss Wisconsin experience
1)Forage Kitchen – Thai Grain Bowl 2)Pres House 3)Ice Skating on Lake Mendota, Dane County Farmer's Market 4)Wisconsin Capitol (of course) 5) Badger Football/Hockey Game, Summer Fest in Milwaukee

1) Coffee and pastries from Lakeside St. Coffee; beautiful and quiet location that works great for chatting with people or getting work done. 2) Terrace / Memorial union area is a great place to hang out and meet some new folks, don't forget to stop by Pres House as well! 3) The UW Triathlon club has a very active group of graduate students who have a lot of fun with the sport. Many of us have little to no experience in swimming, biking, or running, but still found it a rewarding activity to improve at. Makes for a great de-stresser at the end of a long day too! 4) Devil's lake is a beautiful state park to visit, definitely worth the drive at some point during your time in Madison (or you can bike up there for extra adventure and fun)! 5) Activities on the capitol square: be on the look-out for the farmers market, concerts on the square, and innumerable other events that happen near the capitol.