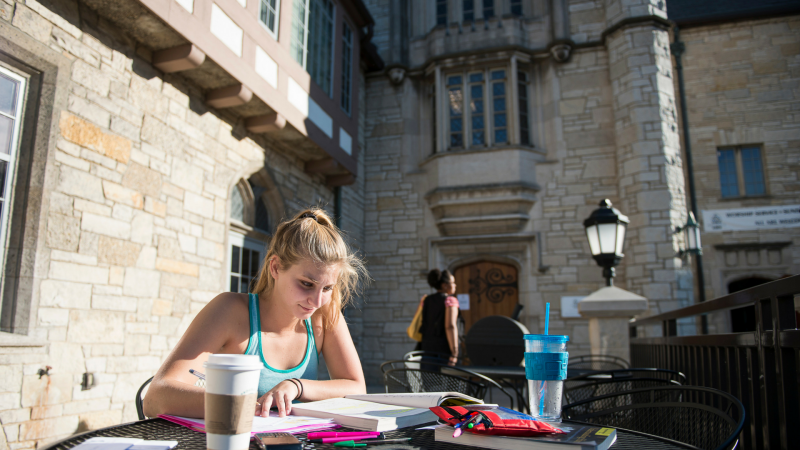 "What I Wish I Knew" – Advice for Freshmen Students
We asked returning students at UW-Madison what they wished they knew when they started on campus as Freshmen. We hope you can learn from their advice for freshmen students! And this is just some of their wisdom. Come on over to Pres House on Monday, September 2 at 1pm for "What I Wish I Knew as a Freshmen" to meet other freshmen, enjoy Babcock ice cream, and hear first-hand from experienced students what they wish they had known as freshmen. And check out how lots of other ways to get connected at Pres House. So here it is: "What I wish I knew" – advice for freshmen students:
ON MOVING: What was something you wish you had brought with you to campus that you didn't? What was something you brought that you didn't need?
I brought way too much stuff, be conscious of the size of your new living space! I also think a doorstop is essential.

I needed a lot more socks and underwear than I thought! It's nice to be able to go 10-14 days without doing laundry. Also, you'll need your winter coat sooner than you think.
ON LIVING WITH OTHERS: Advice for living in the dorms, dealing with roommates, and planning where to live/who to live with the following year?
Don't rush! I did and got very lucky with it turning out well, but I promise there will still be plenty of great places to live if you wait until after winter break.

From the jump set some ground rules with each other. Alway avoid staying in ur dorm during the first week of school. Make as many connections as possible. Don't not stay silent if something is bothering you.
ON SUPPORT: Where are some places/resources on campus you wish you knew about sooner and why?
UHS has so many great resources – use them! Get a massage when you're stressed, meet with a nutritionist to talk about how to eat healthier in a dorm, etc. All services are either free or pretty inexpensive!

I wish I knew about the Multicultural center because UW-Madison is not diverse and it is nice to be in a space with people who you can relate with on a personal level.

The Undergraduate Learning Center in Wendt commons is great for math and science courses. Also, offices hours actually are pretty great. Utilize them sooner than I did!
ON CHALLENGES: What were some unexpected challenges during freshmen year and what helped?
Making friends was hard for me, but you've come to a great starting place at Pres House. Also, don't be afraid to talk to your classmates! You never know who might end up being a future roommate (as happened with me).

I didn't expect to feel so alone even though I was surrounded by so many people on such a large campus. Put yourself out there early to make friends, and then make sure to hang out with them and do things with other people on a regular/weekly basis to stay socially active!

Freedom is great, but remember that your decisions have consequences and you do have classes that you're responsible for on top of all the fun you're having.

Everything in college seemed different than when I was in high school, and this change was a bit hard to embrace at first. Once I accepted that change and got involved with groups of friends, I felt more at home with my new surroundings.
ON ACADEMICS: Advice for handling stress, studying, and grades?
It'll probably sound dull and ridiculous coming from your professors, but make sure to study from day 1. If you wait until even the week before an exam, the information will be significantly more difficult to comprehend and remember.

Get enough sleep, whatever that means for you. Whether you need your 8 hours or just a few hours of sleep at night and a couple of power naps throughout the day, it's incredibly important for your mental, physical, and emotional health. You'll feel so much better overall if you're well-rested.

Stress in college can spawn from various areas of your life. I believe the best way to cope is to do something that will allow your mind to escape. For instance, dancing, running, reading, or painting. Something that you are familiar with or that is completely new but will allow you to relax and forget about your troubles.

Go to class. If you do that, you'll probably pass. Figure out which classes you need to do readings for and which you don't – in some they're super important but in others it's just a reiteration of the lecture that goes way too in depth.
FAVORITES: 1. Class you've taken, 2. Place to eat and food to order, 3. New activity to try, 4. Off campus spot to visit, 5. Can't Miss Badger Experience
1. GWS 102 and CSD 240 2. Mickie's Dairy Bar on Monroe – The Scrambler and/or the French Toast 3. Zumba/fitness class at the Nat 4. Vilas Zoo 5. BADGER FOOTBALL GAME DAY

1. Don't remember the name but it was about climate change. Take classes outside of your general field of study for gen eds if you can, it gives you a broader perspective. 2. This can be hard as a freshman without a car, but the best food in Madison isn't on campus or state street, it's on Williamson (willy) street. A lot of it is niche ethnic food, and most of it is awesome, so branch out and try new cuisines. 3. Hoofers! 4. Arboretum 5. Walking on frozen lake Mendota. Tray sledding. Join a club that's just for fun.