Graduate Students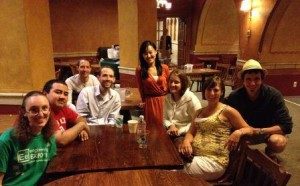 Graduate Student Fellowship at Pres House
Let's face it. Graduate school can be a lonely experience. We know from first-hand experience that the journey to a graduate or professional degree is an exciting one, but can also be difficult. We all need different kinds of support at different times. We need people to lean on, a home away from home, and sometimes just a quiet place. The graduate and post-graduate fellowship at Pres House campus ministry is here for you.
Pres House offers a spiritual home—a place of care and concern—for graduate and professional students and post-docs on the UW-Madison campus.  Members of our grad/post-grad community come from a variety of religious backgrounds, from different corners of the U.S. and the world, and from many areas of campus. Pres House is a place to grow in Christian faith or to explore it for the first time. Pres House campus church is a space where you are welcome no matter who you are or where you find yourself on the journey. We are a family that can offer hope and encouragement in the midst of the struggles of academic life. We're great at celebrating successes and joys, too.
Members of the graduate community enjoy spending time together in a host of ways: we meet monthly for dinner and conversation, hold Bible or book studies, gather at downtown pubs for some downtime, and enjoy movie nights together (Britcoms are a great favorite!). We also participate with the larger Pres House campus church community in weekly worship, campus and community service events, retreats, and service-learning trips.
If you are looking for a faith community, or just friends, in the UW-Madison campus area, we invite you to visit Pres House. Drop in to one or more of these events as you like. We look forward to welcoming you!
In the Fall, we hosted an event called, "What I Wish I Knew as a Graduate Student.  Check out some of the tips shared on our blog.