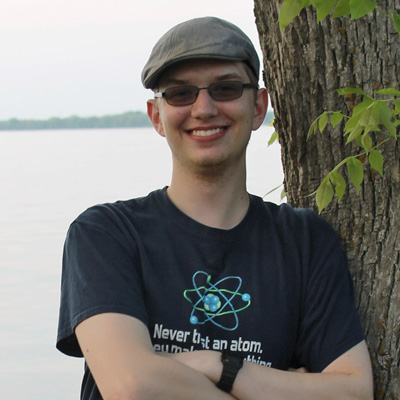 Finding Friends ~ Jacob Dahl
Jacob Dahl is a Chemistry major in his third year at UW-Madison. He shared this story from his freshman year at Sunday Worship on September 8th, 2019. You can also listen to it here.
Hello, my name is Jacob Dahl. Freshman year, I didn't know what I was doing. I had no friends, no idea where I'd be living next year, first time away from home, and college is hard. What I really needed however were some friends, which I happened to find here at Pres House.
I've always had a hard time with friends as a child. Growing up in a small town and having the interests of reading, playing Nintendo video games, and disliking sports is just far enough out there that almost no one wanted to be my friend. I was also massively introverted and bad at talking to people. I still am, occasionally just saying whatever I think people want to hear or having no clue how to hold a basic conversation sometimes. The only friend I had really as a kid moved away in the third grade, leaving me drifting trying to find where I fit.
Fast forward to freshman year of college. It's probably the first or second week and I want to find a church. Church was the one constant in my life back home and important to who I am. So, I came to Pres House. No particular reason why, it was one of the two church pamphlets I picked up, and I came here first. I knew no one. Afterwards, Erica came up to me and we talked for a bit. She invited me to come to the freshman small group. I said sure because I hate saying no to people. So, I literally forced myself to come. I thought probably about 15 times to turn back. But I showed up.
That was the best decision I made in my entire college career hands down. No joke. I would even put it above decided to go into chemistry. I made my best friends in that group. We still get together all the time now, two years later. Three of them are my roommates this year. Two of them are my groomsmen for my wedding this coming summer. They are friends I confide in; they are my friends who take me for who I am, an awkward nerd who is terrible at sports and has a bit too loud of a voice.
So, join a group at Pres House. I still try my best to go to small groups because they really are the cat's pajamas. Heck, now I'm even leading a few. Even if you have to force yourself to go, do it, it could be the best decision of your life.