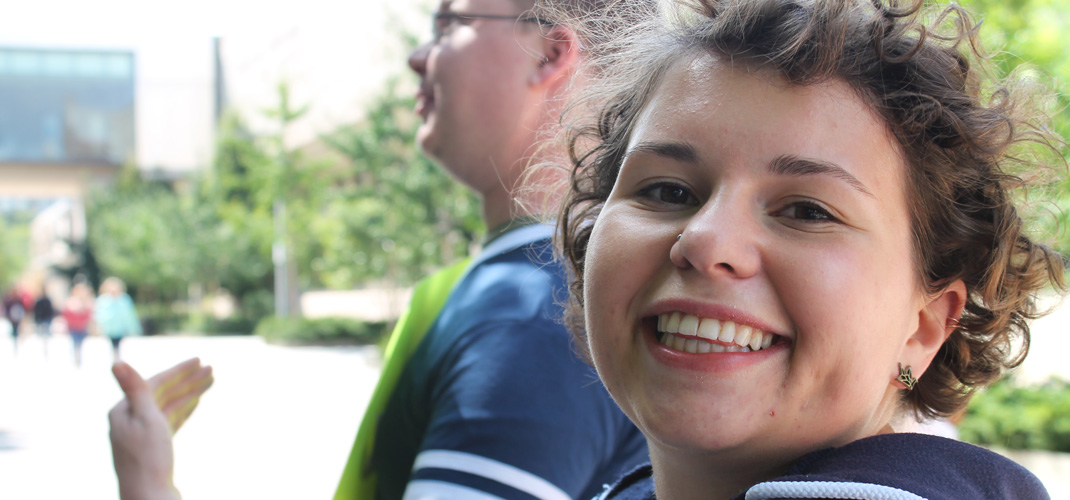 Two+: Christian Community
Jenni Geurink graduated in December 2017 from UW Madison. She shared this reflection at Sunday Worship (12/10/17) about the importance of Christian community.
I didn't know if I was going to go to church in college, but still I followed the sidewalk and soon found myself in Pres House.  That first Sunday I sat next to Billie not knowing that she was soon to become one of my best friends throughout college.  But, my freshman year didn't go exactly as planned.   I was doing all the normal freshman things- making tons of friends, eating all the pizza of my heart's content and loving my studies, but I was also really sick.  At the end of high school, I found myself dealing with a myriad of chronic health problems that no one knew how to fix, and then suddenly, I was also transitioning into college.
My body didn't handle it so well.  Over my first week of classes my biggest concern was not whether I'd like my professor or if I'd make any new friends- instead, I had to make sure that the stranger sitting next to me would be able to help me if I had seizures during class, that I wouldn't cause a seen if I had an episode. I felt so incredibly alone in a world full of uncertainty. But I also didn't want to talk about it.  I didn't want people to know I was sick because I didn't want to be defined by my illness.  So, as things got harder, I was determined to keep distance from the communities I had joined.  As Erica loves to share, when she asked me to join the freshman small group, I actually took to time to email her back and tell her no, that small group just really wasn't for me.
I wanted to keep all this anxiety and fear all to myself, but my body had other ideas. There were a couple tough weeks where I found myself in an ambulance more often than not, having very public seizures despite my stubborn belief that I could prevent them if I just tried hard enough.  I withdrew from the communities I had found.  I missed a lot of class, ghosted many of my friends, and holed myself up in my dorm room afraid of the control my body seemed to have over my life.
But Pres House wouldn't let me go.   Billie knew I was struggling and despite my seclusion, she reached out to the Deacon team here.  On one of my many trips to the ER, I was admitted overnight, but while I was there, a card from Pres House made its way to me. It had some silly quote about peas in a pod wishing me "get well," signed with hopeful messages from the community, many who didn't even know me.  And I was completely overwhelmed.  With gratitude, with confusion. I didn't understand why they would reach out to me, why they cared when I had so obviously disappeared. And for the first time in long while, I really felt God's presence.  I backed away from this community when I needed it most, but God didn't leave me; God sent this whole community roaring back, unwilling to let me go through this alone. That card meant so much to me.  It blanketed me in God's love, dragging me out of my isolation because someone out there cared- it still hangs on my wall today.  It was here that I learned the incredible value of community even when I didn't want to acknowledge it myself. I needed the push, the not so gentle reminder that I can't always be the one who helps, that I need to learn to accept help too.
Looking back now, it's almost comical to see how quickly Pres House has become such a big part of my life, a fixture of my undergraduate career and anchoring point. After those dark months, I have felt called to give back to this community that has given me so much, to extend the same gesture to others and still ask for help when I need it too. This is all to say, that a simple message, a card, a hug, a coffee buddy can transform someone's experience.  I am humbled by the grace that was extended to me and constantly reminded of the message of Two plus.  We talk about it every week, but think about it- wherever two or more are gathered, God is there.  Even when you feel like you are completely alone, God is there with you, in the people around you, in the stubborn love of a community. I have seen God here in Pres House, and I know I wouldn't be the same without it.