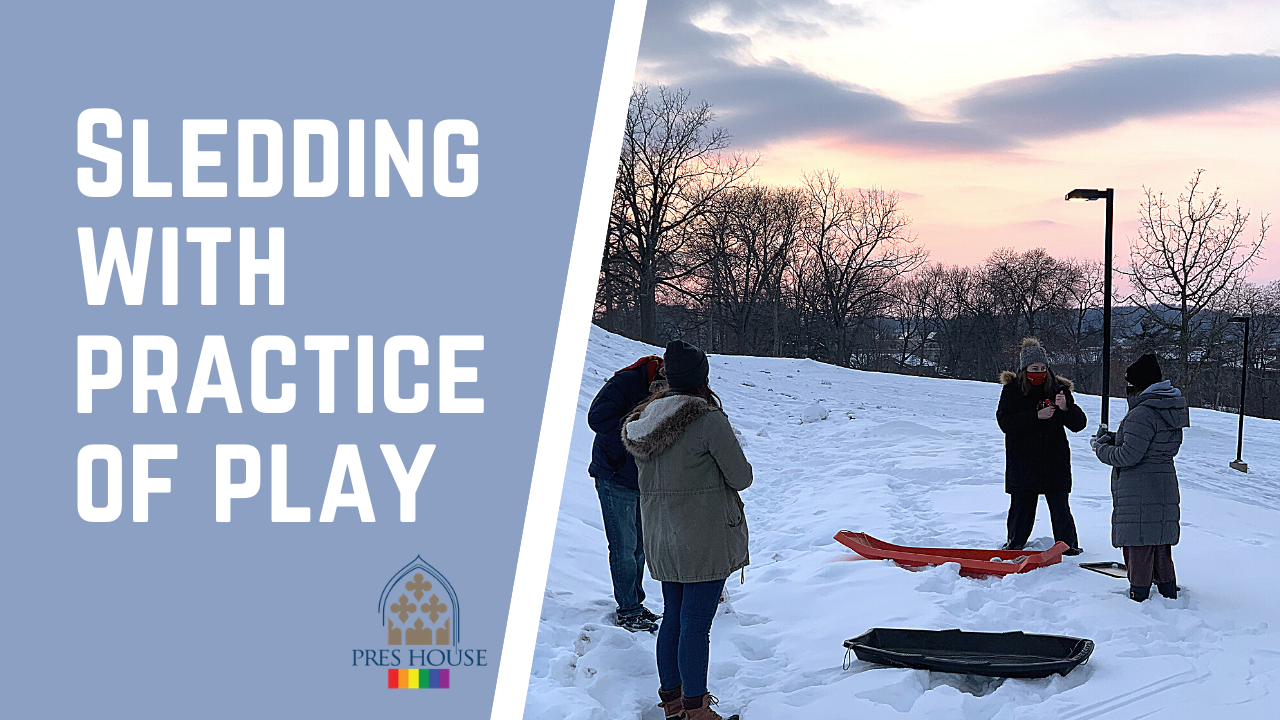 Sledding with Practice of Play ~ Olivia Avery and Chez Phelps
What do cookies and sheet pans have in common? If you guessed baking you were wrong; the correct answer is sledding with Pres House!
It started as a lonely Friday night. All our roommates ditched us for the weekend. Rather than staying in and binge-watching iCarly all night, we wanted to relive our childhood and sled down the slopes of Observatory Hill. So we grabbed our sheet pans and headed to Pres House!
Pres House provided us with the opportunity to catch up with friends, have some delicious chocolate chip cookies, and almost lose a limb falling off a sled. Some highlights from the night include: Nii almost sledding down the hill while standing up, Jacob sledding off an edge and almost falling onto the concrete, and Meredith should get the award for best sledder with the fewest falls, whereas I (Olivia) took a tumble and my neck is still paying for it. But the biggest thrill of the night was when we shot down the hill and nearly collided with a tree on a big sled together.
Olivia: This was a really good opportunity to connect with others during this time of isolation. It was so nice to get out of the house and spend time in community. The community at Pres House is one of a kind. As a little baby freshman, I was pretty in my shell, but luckily I found Pres House, where I felt welcomed and met an amazing group of people. Pres House became my second home my first year on campus, where everyone is part of a big family. It's still really nice to be able to have this community online and see everyone each week in GatherTown.
Chez: It was only recently that I became involved in the Pres House community, because my gal-pal Olivia has roped me in, but I have enjoyed every opportunity that I have participated in. I am able to be myself and share many laughs with the Pres House family.
The story below comes from Olivia Avery and Chez Phelps, roommates and Pres House community members. We've also turned this story into a video (complete with clips of all the wipeouts mentioned) that you can watch on our YouTube channel; check it out!
Practice of Play is just one of the many small groups Pres House has to offer. Find yourself among friends in a Pres House small group!