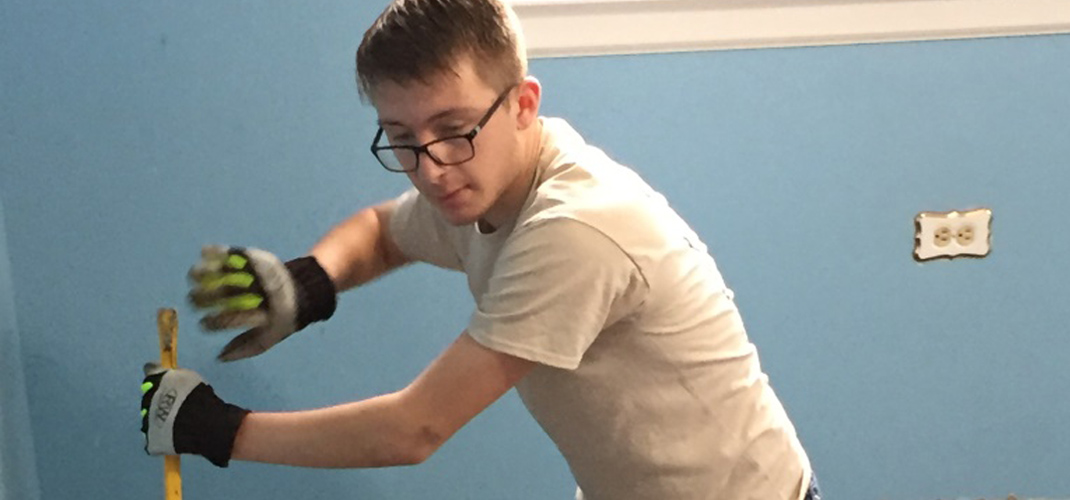 Hope is Tested – A reflection from BWAP Louisiana
Hope is Tested – A reflection from BWAP Louisiana by Steven Martell
When I think of the phrase "Hope being tested", I tend to think of the word "Faith", so when I was asked to speak about a time that hope was tested, I knew I wanted to share a brief story of faith in action. Although there are times in my life when my hope was tested, I discovered through our interactions with the people of Denham Springs, Louisiana, that those who were present during the flood in August of 2016 all had their faiths tested by the difficulties presented by the disaster.For those of you who are unfamiliar with this event, last August there was a large flood that was the result of extensive raining and the inability of the water to drain from the region. This resulted in a flood that had standing water for several days, forced many people indefinitely from their homes, and caused an estimated $2.2 billion in damage. Today I would like to share a few of the stories the people offered to us during our stay with them two weeks ago.
Our first story was from our host, Mary; she revealed to us that we can have our faith tested in some of the most unexpected ways. During the flood and in its aftermath, Mary volunteered to leave her home so she could help her church hand out various necessities to the people who had been driven from their homes. She spent an entire afternoon determining who needed the toiletries that the church was able to provide. Although this seems as first glance to be an easy request, Mary found that she had her faith tested when she began to run out of supplies while the number of people asking for these supplies seemed to stay constant. As Mary began to anticipate, she came to a point where she had only one towel remaining, even as multitudes of people requested them. Being unsure of what to do with the last towel (so as not to disappoint the crowd), Mary found herself tested. Mary reported to us that she felt called by God in that moment to give the towel to the next person waiting in line (even though this meant she would not be able to meet the needs of all the others), but she gave away the towel nonetheless. Within minutes of giving what she thought would be the last towel, a shipment containing over one hundred towels was received by the church: a miracle for both Mary and the survivors in the church.
In the meantime- while Mary was helping the people who came to the church looking for help- she hosted dozens of others in her own home, giving up her own bed. As she let people into her dry space (one of the few undamaged homes in the neighborhood), the water continued to raise. Mary told us that she, her family and those who were taking shelter in their home began to grow anxious as the water started to lap at the edge of the home's lawn. She recalls sitting down to pray, placing her trust in God and saying "You have trusted me with all these people! You can't let my house flood or they will have nowhere else to go!" Later that afternoon the rains finally stopped, leaving Mary's home as an island in the water, with a new shoreline a matter of paces from her family's front doorstep.
The final story I would like to share this afternoon is from Maw-Maw, the 81 year old woman the Pres House team members had the pleasure of serving during our trip. One morning during the week, while I was taking a break from working on rebuilding the floor, Maw-Maw told me briefly about her experiences during the flood. Maw-Maw reminded me how she is lucky enough to have many of her children living near to her or with her, yet as the water rose in her neighborhood she explained that found herself stranded at home with one of her daughters, while her sons were out in the community saving others from completely damaged homes. Although Maw-Maw did not go into much detail while telling me her story, it was clear that she had been shaken by being stuck in her home while the floor buckled and broke, yet it was also clear that she never let her fears get the best of her because she was confident that someone would find a way to make it back to help in her evacuation if need be.
Through these stories you may have seen a common theme that sprung out: hope being tested purely on a basis of faith. Although these are all more dramatic examples of tests of faith (as they are all driven by a tragic flood) they are all clear testaments to the power of faith. All these stories ring with a similar message: place your faith in God, and (although you may face challenges that will test your ability to stay hopeful and faithful) you shall not be unnecessarily harmed in your doings…