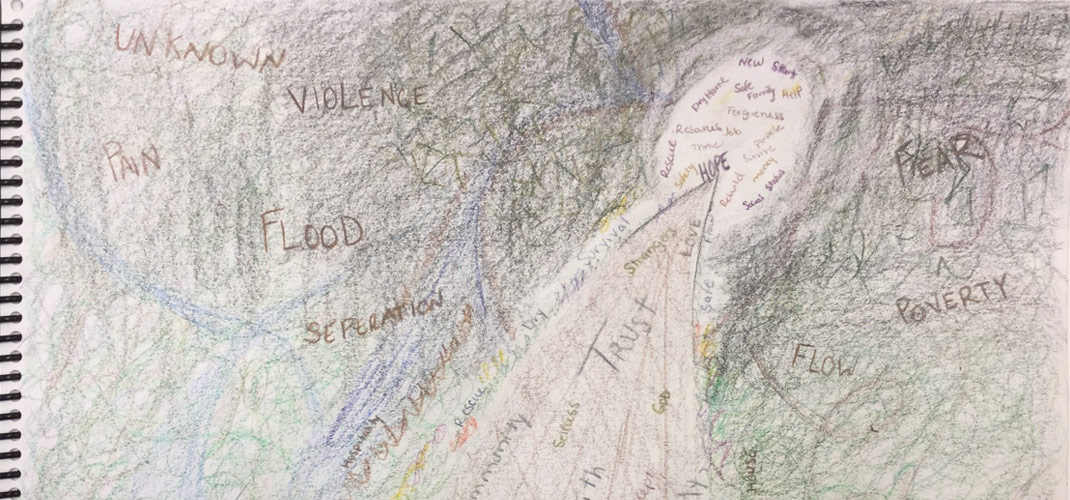 Hope is Named – A Reflection from BWAP Louisiana
A Reflection from BWAP Louisiana by Mary Murphy
Hope is Named.
As I reflected upon this phrase, I pulled out my sketchbook to help me express my thoughts. I resulted in the displayed drawing. I reflected on the stories I heard throughout my trip to Denham Springs, LA and I ended up with three elements of hope–Pain/Darkness, Possibility/Light, and Trust/Community. As I continued to draw, I ended up adding words that resonated with each attribute. While doing so, I asked myself a few questions; What pain did Denham Springs suffer from? What do they hope for? And How did they cultivate those hopes into something tangible?  Today I would like to share two stories that guided me in this artistic reflection.
Pain/Darkness and Possibility/Light
One particular story stands out to me in this regard is from the daughter of Director of Hospitality (Mary), Her daughter, a high-school sophomore I believe, told of the state of violence and poverty in Denham Springs before the flood and her hope for a better and safer community in the future. She talked as if the flood, though tragic and painful in-it-self, was a restart for the city to come together and rebuild a something they'd be proud of.
She ended with a story from within flood relief efforts. She explained that between a very poor trailer park and a wealthy neighborhood, stood a fence. The flood waters tore the fence down, as from the act of God, providing a passage out of both their previous lives as well as safety from the flood. Individuals from both sides of the fence worked together to gain safety, not taking into account their differences, but rather strengths, as each of them worked to survive and help others out of trouble.
Trust/ Community
Another story that resonates with me is from the work site, where I helped renovate the floors at MaMa's house. Both the owner of the house, MaMa, and the worksite manager, Peter, put their trust in us, a group of strangers from Wisconsin, with varying construction skill but a willingness to volunteer, to help renovate the floors. Neither of them had reason to trust in our ability to complete the tasks on hand, but they did so anyway. Peter sacrificed both time and skill in order to teach the group how to restore the floor, from the demolishing step through to laminating a new subfloor. He even trusted us enough to leave the job site from time to time and allow us to cultivate our own community, trust, and faith in each other to continue to problem solve, teach each other skills, and team-up for difficult tasks.
Though we did not see MaMa's house finished, I trust that the Fuller Center, Peter, Mary, and future volunteers will continue upon our efforts to renovate and fully hear MaMa's stories, allowing her to move back in and resume living. I also have faith in Denham Springs to stand together in community to provide strength, hope, and love as they work to restart, rebuild, and change their city for the better.