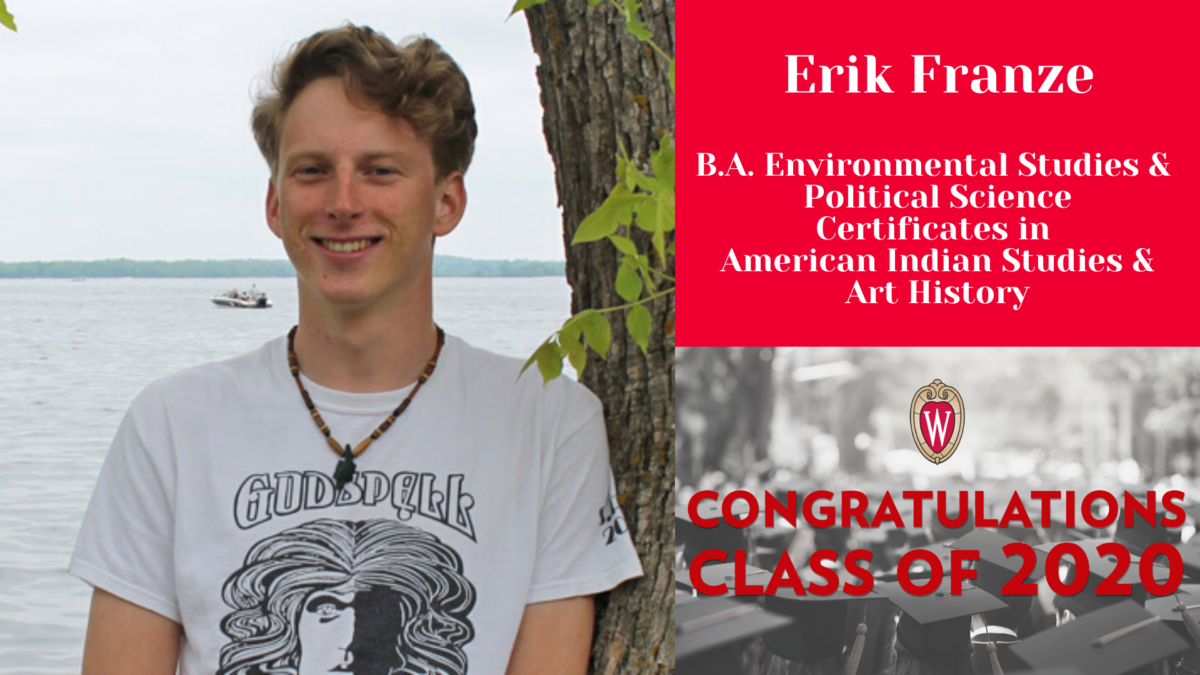 Home Is Where the Heart Is ~ Erik Franze
Erik Franze shared this reflection on May 3rd, 2020 at Graduation Sunday Part II. You can also watch or listen to it.
"But those who trust in the Lord shall renew their strength, they shall mount up with wings like eagles, they shall run and not be weary, they shall walk and not faint." ~ Isaiah 40:31
Hi everyone. My name is Erik Franze, I use he/him/his pronouns, I'm from unceded Potawatomi territory now known as Waukesha, a suburb of Milwaukee, and I am a senior who has been a part of Pres House for four years now. It's pretty crazy to say that.
Home has been on my mind a lot lately. For almost two months now, most of us have been staying at home to protect our own health and the safety of our communities. Some, like me, have returned semi-permanently, at least for the foreseeable future, to our childhood homes. If you are lucky enough to have a place to shelter in that is comfortable, affirming, and loving, you probably have come to realize even more how important home is. For me, throughout my four years at UW-Madison, there was only one spot that became my definitive home. It should come as no surprise that the home I am talking about is Pres House.
When I began school as a freshman, I was cocky and overconfident and felt solid about my major and career choices. I thought I knew who I was and what I wanted to be. I had entered college with a lot of connections from Waukesha still present as the key players in my life, rooming in Slichter Hall with a close friend and teammate from my hometown, and in a relationship with my high school girlfriend who also had moved to Madison. My friends lightly but rightfully teased me that I hadn't closed the yearbook, and that I was clinging on. In retrospect, this was all very accurate, and very fair. I had been used to leadership and success and having a pretty big ego in high school, and naively assumed I could replicate it all in college. I headed to Pres House for the first time some Sunday in early September of 2016, not because I was really actively seeking out a worship community, but because of a few reasons stemming from happenstance. I had grown up Presbyterian, considered myself casually religious, and wanted another activity to get involved with. I don't even have distinct memories of my first Sunday. Little did I know, Pres House would grow to be so much more. 
I joined Freshmen Small Group, led by Erica, and alongside friends like Emily, Beatrice, and Jessica who are still here with me all these years later. In a new environment with new ideas and people drawing me in, my old relationships began to unravel, and my self-image and plans came crashing down halfway through the year. The community of our small group became the one space on campus where I found enough trust to be vulnerable and honest about doubt, anxiety, and depression. I credit it with getting me through the struggles of my first year on campus, and a time when I had to grow up fast and leave behind a lot of my past. Without Pres House that first year, I'm unsure if I would have remained on campus to mark this final one. I looked for God, and soon found God where I think She is most frequently felt, embodied in people who care about you with a spirited love.
As the years on campus passed, my personality traits of energy and enthusiasm endured. I attended a lot of events and joined a bunch of clubs, which were great and fun each in their own way. I probably did too much, moving too fast and stretching myself a bit too thin, which is why many friends at Pres House often wisely reminded me to slow down a bit. And as I near graduation, it's telling that there is only one group I have stayed truly committed to and immersed in, and that is Pres House. This is probably because I view Pres House as so much more than a club, an extracurricular activity, or a building on campus. It's not some resume booster or group you attend regularly out of compulsion. Pres House is a home that sustains you. In a period of life defined by change, with constantly different classes and classmates, dorms or apartments, roommates, and responsibilities, Pres House is my anchor. The major I was studying, the boy or girl I was dating, and the internships I had all changed. Through it all, Pres House and its people were always there.
But this isn't to say Pres House is a static, esoteric community. Nothing could be further than the truth. In an era where religious communities are facing serious existential threats due to dropping membership, particularly among young people, Pres House does things right by embracing change and adapting faith for a modern world. Here, my theology was unlocked. The community opened my eyes to interactive ways of worship I didn't know were possible coming from a fairly traditional, mainstream PCUSA background. Without pushing any ideology onto anyone, Pres House aided me in realizing that having progressive values and being a person of faith were not mutually exclusive, but rather inherently compatible. I came to know that our collective liberation that is acutely needed in the world today can and must arise from the teachings of Jesus and other healers. Through a Christian ethic of radical love and action, we can meet the world's needs. 
Pres House is a church that doesn't shy away from difficult topics that most others willingly avoid or weaponize into harm. Like any ideal home should, we don't ignore issues and injustices, but rather make space for them, and then decide what to do. Pres House is a home that makes you think deeply, and I have personally benefited from this. When I have dealt with relationship or family stress, or struggled with my sexuality as a queer person, leaders at Pres House have been right at my side for active support. We have sermons, events, and conversations that reckon and reconcile with historic systems of oppression like racism, patriarchy, and colonization. At a predominantly white institution (PWI) where most student religious orgs uphold outdated norms that seperate people into silos, or just exclude them outright, this sets us apart and keeps me coming back for more. We empower students to take on leadership roles in Council, the Board of Directors, or through small groups that remedy these gaps and enrich their spiritual selves. We uplift sex positivity and condemn gun violence. And these topics really make a difference, because they craft our home into one defined by inclusivity to groups often neglected by the church. 
The thoughtfulness extends to the smaller scale too, as even the pronouns we use for God or the size of our chunk of communion bread becomes a sign of love and bravery. This is spiritual fulfillment, and it is prophetic for our times.
Just as at other good homes, Pres House is one where we laugh, and cry too. There are countless dumb inside jokes, silly photos, and memories of retreats. There is the look I exchange with Jessica or Silas every time I enter the kitchen in a rush, hoping to make a quick lunch between classes from last Sunday's leftovers, and find one of them has already beat me there and is chowing down. This happens more than I would like to admit, but hey, if that's not home, I don't know what is. There are times when I am moved to tears in my home, like when we honored Mark's last time leading worship as a pastor and I led the congregation in a laying of the hands. Sometimes, I find myself crying just on a regular Sunday when the songs from Natalie and the music team swell in the sanctuary and I hear God.
The laughing and crying can coincide, like when I jumped into Lake Waubesa, a chilly ritual at retreat, and landed in a shallow, rocky spot. My feet got cut up and were quite bloody and painful, so Becca hoisted me up on her back to climb the hill to safety. I mean, honestly, people at Pres House haven't just spiritually and mentally supported me, but they have literally physically carried me. In moments when I was weary and couldn't walk, Pres House folks have renewed my strength. They have furthered my trust in the Lord.
It might seem callous, but amidst all the upended senior year traditions, I haven't been that saddened by the postponement of UW's commencement and the transition to an online ceremony on Saturday. The huge crowds and pomp and circumstance of thousands of people packed into Camp Randall really isn't my scene. To me, what is much more meaningful, is the intimacy and safety provided by my home on campus. It is a place where I know I can take refuge in and be fully accepted for who I am, whether I'm escaping a long day of classes or distressed by another act of inhumanity on campus or in Washington, D.C. It's where, as the prophet Isaiah writes, my strength is renewed, because I trust in this place as my home where I can find the Lord.
This is all to say that I will be back, mark my words. The bright side of the pandemic, and of having to do Graduation Sunday online means that I am even more determined to show up again. I would simply miss y'all too much. Pres House hasn't seen the last of me yet. And I know that I will never see the last of Pres House, because this community is a part of who I am and always going to be held near and dear to my heart.
So as I conclude, I encourage everyone with years remaining at Pres House to take advantage of all the support we have to offer. And then I ask you to bring in others from all walks of life to enjoy and contribute to our community. Pres House is an ever-evolving, unique gift. While I wish there were more houses, or rather homes, of worship like it, I am so blessed to have been welcomed into this one. My faith has been deepened during a phase of life where the reverse is more common. Pres House is such a beloved home to me, both from the outside with its stunning neo-Gothic tower, but mostly from the inside, where the people make beautiful things happen, and help beautiful people to happen. I want to thank Erica, Mark, and everyone who has been a part of my journey at Pres House. You turn our home at the heart of campus into one filled with peace, compassion and love.