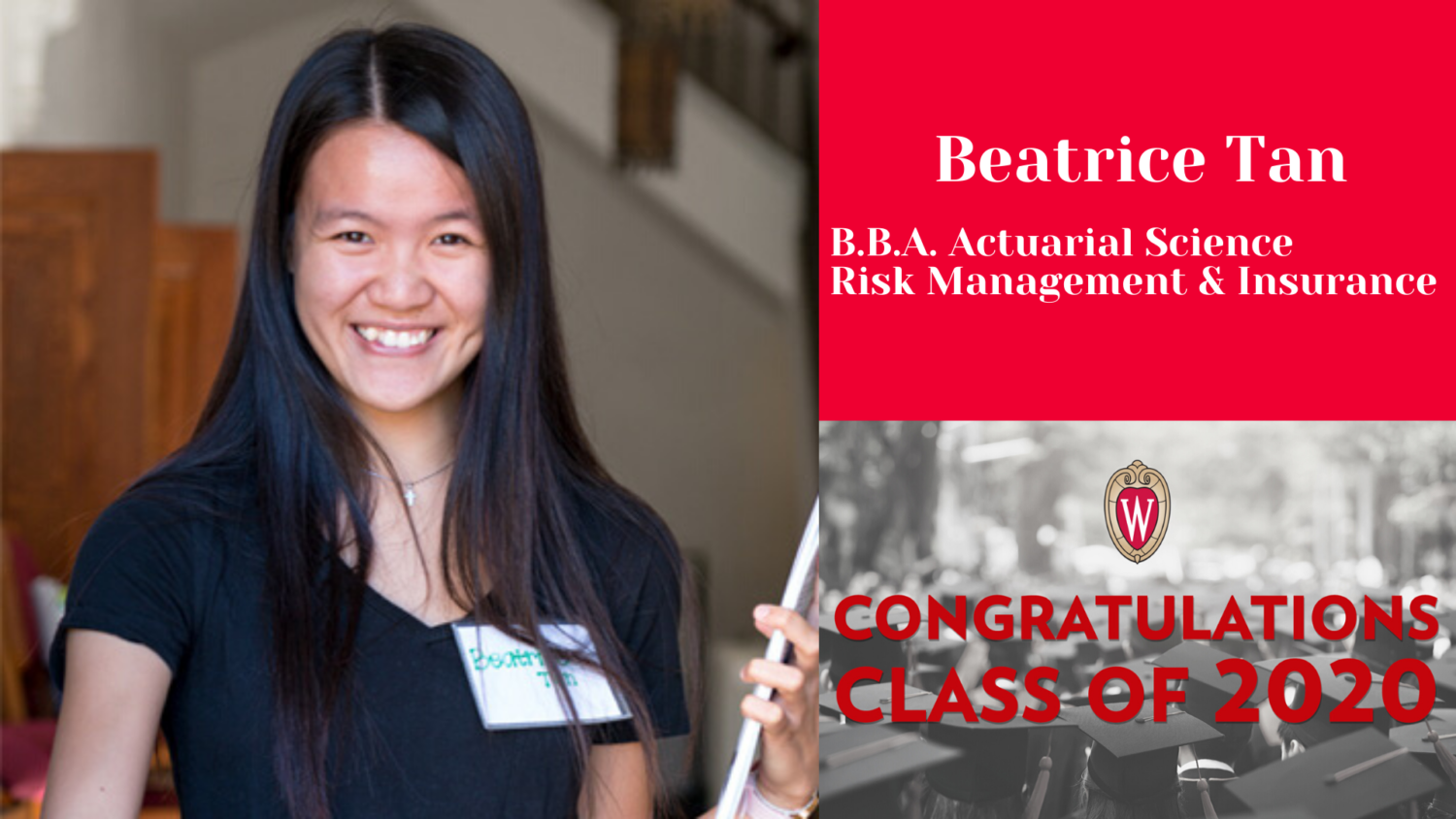 Let God Be the Author of Your Life ~ Beatrice Tan
Beatrice Tan shared this reflection on April 26th, 2020 at Graduation Sunday, Part 1. You can also watch or listen to it.
I still remember the day I was desperately praying to get admitted into my dream school, or the day I was praying for God to show me what my future career path would look like. For those of you who don't know me, my name is Beatrice and I am a senior studying Actuarial Science and Risk Management and Insurance. I am one of those girls who is obsessed with personality tests like the Enneagram. However, the business school has one test in particular that they always rave about, up to a point where I think most, if not all, students have taken this test at least once—the Gallup CliftonStrengths assessment test. After taking the assessment, you will be given an in-depth report with your top 5 signature themes analyzed. If there is one thing you should know about me, it is that I am a very future-oriented girl—or as the CliftonStrengths report categorizes it: futuristic. I am the kind of person who loves to peer over the horizon. The future fascinates me and it is what keeps me motivated. As if it were projected on the wall, I see in detail what the future might hold, and this detailed picture keeps pulling me forward, into tomorrow and into the future.
There have been countless things that I have prayed for—college, grades, actuarial exams, friends, future spouse, career, family; you name it. While many has been answered by God, there are also, unfortunately, many that did not go as planned. I thought I knew what was in store for me, but why is the outcome different from what I have imagined? I worked so hard every day and night cramming out my personal statements back then, but why did God not grant me with my one and only wish of getting into my dream school?
When I was a senior in high school, I thought I knew which school was the best for me. I was convinced that it was also the school God wanted me to pursue my college degree at. I was so fixated on all the universities based on their rankings and prestige, and applied to UW Madison as my "backup" school. That's how silly and ignorant I was. I say "backup", not because it is a bad school, but "backup" in a sense that I never paid attention to my application. I barely knew where Wisconsin was located, let alone hearing about UW Madison at all. I remember UW Madison being the very last university I applied to, just because they had an actuarial program and because they had a third deadline that was after all my other deadlines. Unfortunately, after a few months of waiting, my dream school rejected me and I was left with options that I had not expect. Although I still received many acceptance letters with substantial amounts of scholarship, I was devastated that my "future" did not turn out the way I envisioned it. After much prayers and discussions with my family, I ultimately decided to attend UW Madison, which I initially thought was financially impossible. Because I applied at the latest deadline, I missed out on all the scholarship applications available. UW gave me the least scholarship among all the other schools and I didn't know if I was able to financially afford this education. However, God blessed me abundantly throughout the journey. While the first year was financially straining for me, I was able to have the majority of my tuition covered by scholarships and grants for the rest of my college years.
Prior to dorm move-in day, I have never been to the Midwest. I attended SOAR orientation a few days before classes started and I "toured" campus through the limited pictures available through Google Images. I was scared coming in—not only was I the only student who enrolled in Madison from my high school (in fact, there were only 5 students coming to UW Madison from the entire state of Hawaii), but I also did not have family nearby to depend on. I flew almost 6,000 miles from Malaysia to Hawaii, packed up all my stuff, and flew another 4,000 miles just to arrive campus. Dragging three luggage with me, I took the cab from Dane County Regional Airport to my dorm. The 20 minute cab ride was definitely a suspense; however, I was welcomed with friendly airport workers, an outgoing and chatty taxi driver, and a whole lot of helpful dormmates who helped me move into my room. Although I was exhausted, gross and greasy, ready for a shower and a nap, I remember being so excited and so blessed for the people I have already met, the roommate I was randomly matched with, and the university I was currently at! On top of that, after settling in, I found a safe and very welcoming community where I was able to connect with others, challenge my own beliefs, and—most importantly—build my relationship with God through various leadership roles and serving opportunities like the music team. This place is Pres House, my forever home and source of comfort.
Back then, all I cared about was attending the best university to receive the best education possible. Little did I know that UW has one of the best actuarial science program in the nation, which is ultimately what mattered most in my career. I did not, and would not have, realize the rich resources UW Madison had if it wasn't because of the guidance of God. Just as Proverbs 3:5-6 states, "Trust in the Lord with all your heart, and do not lean on your own understanding. In all your ways acknowledge God, and God will make straight your paths." Sometimes you have to let go of the life you pictured, in order to have the life that God has planned. Without the assistance and resources provided by UW, I wouldn't be able to be where I am at today.
Similar to my experience four years ago, this thought came back to me again recently when I went through almost 10 interviews in a day just to hopefully hear back from a company or two. During the recruiting process, I've interacted with several employers, one of which stuck with me the most. Never in my college career have I ever connected with an employer on such a deep and personal level, and I thought for sure this is the one that God has planned out for me. They even flew me out to Tampa, Florida, all at their expense, for a final round interview and seemed very impressed by my performance. But who would have ever thought that, up till this day, I have still yet to hear back from them! No acceptance letter, no rejections, no updates, no nothing.
Last summer, I interned at an actuarial consulting firm in Milwaukee. Again, thanks to the career services provided by the Wisconsin School of Business, I was able to secure my internship fairly early in the first semester of my junior year. Things were great and I was super excited to start my first actuarial internship, only until the moment I received an email that the interviewer who recruited me, who is also the manager of all interns, decided to leave the company. I did not realize the impact that the incident would have on me. The company is relatively small in size. Since I was the only intern and now that the original manager in charge of me had left, they must have forgotten to transfer that responsibility to someone else. Not going to lie, I had a weird summer. It was nice that I had a lot of freedom, but the internship experience was definitely very different than the ones my friends had.
Similar to most students, I applied for an internship in hopes of receiving a full-time offer. When I was presented with several internship offers, I chose the one that would benefit me the most moving forward. To be more specific, I wanted certainty. I wanted the internship that had the highest intern retention rate so that I wouldn't have to go through the painful process of attending career fairs, applying for jobs, and interviewing all over again. Unfortunately, as you can probably imagine, God did not grant me my wish—not because I didn't deserve it, but because I deserved better. I wasn't satisfied with the internship I had last summer. However, if it wasn't because of God's plans, which may initially be seemed as brutal, the lazy side of me probably would have never fought for the better. I would have settled with my current situation and regret further on in my career path.
If you asked me back then if was disappointed? Heck yes, I definitely was. But do I regret it? Not at all! In fact, I am beyond grateful for the place I'm at today—whether it'd be attending UW Madison or starting off my career at Deloitte this September. God's plan is always the best. Although it may seem that nothing is going your way, or it may seem that God is not listening to your prayer, remember that when God is silent, God is doing something bigger and greater for you!
If there is one piece of advice I could pass on to you all, it would be that when God closes one door, God opens another. Be reminded that God has your best interest at heart. When a door closes, you don't know what God is saving you from. God may have closed the door because God knew that you are worth so much more. God has a greater plan for you!
I am grateful to have found a Christian community that I will always call home in Madison, and I can't wait to search for my next Christian community in Minneapolis. Thank you Mark and Erica, and each and every one of you for an amazing 4 years at Pres House! I will miss you all.