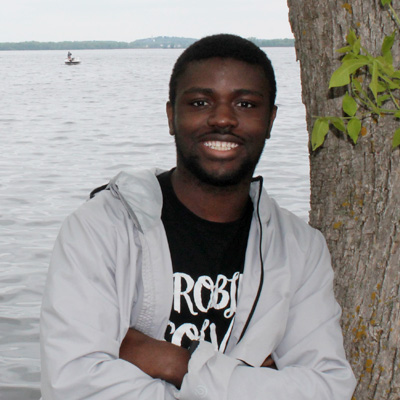 Unexpected Changes ~ Ebenezer Ojo
Ebenezer Ojo is a junior majoring in Biochemistry. He shared this story during Sunday Worship on September 22nd, 2019. You can listen to it here.
So a little bit about me. I was born in Nigeria and moved to Minnesota when I was about three years old. I grew up in a family with African parents who were very strict. So strict that I couldn't even have sleepovers with the next door neighbor. So leaving home and coming to a place where I could be fully independent was refreshing but at the same time was a bit overwhelming as a freshmen coming to Madison. I was excited to be in a new community and to find new interests and people with the same commonalities as me. I came in with the idea that I would be able to do many different things and finding close friends would be easy and everything would click just like high school did . On top of that, the main reason I decided to come to Madison was because I thought I would be able to continue my career as a diver.
However, that was not my experience; months before I moved in the head coach of the Swimming and Diving department told me that I would no longer be able to participate in tryouts since they were not allowing any walk-ins that year. Along with that I moved into the dorms a little bit later than everyone else, so by the time I got there most of my floor mates had already made connections and were not the most friendly people in terms of letting people into the cliques that they had already formed. I would try to interject into their conversations but I would never be able to make meaningful or long lasting connections. Plus I was in a place with very few African Americans so I also felt a little out of place. By November of my freshmen year I thought I would be diving regularly and winning competitions. I thought I would have already made friends that I could share my college experiences with. At this point I was filled with so much dread because all of the expectations that I had for myself were not turning out the way I expected them to.
However, what helped me during these times was looking at things from a different perspective and focusing on that. I might not have made the team but I could still go diving at the Nat when ever I had time. I might not have made the connections that I wanted to make right away but I still had my friends and family back home that I could I always call vent to, and with every negative thrown at me I tried to turn it into a positive the best way I could.
So as time went on and  I was looking around campus to find a place of worship because on top of my parents expectations of getting good grades and becoming either a  doctor, lawyer or engineer, my parents thought it would be very important for me to have a place of worship. I eventually came across Pres House and as I wandered into this unfamiliar space–which I would later find out was the same place I stumbled upon after convocation a few weeks earlier while following the crowd freshmen to get free food–I was instantly greeted by Erica who invited me into this new space that would soon become my second home. Eventually I would join the Freshmen small group and finally be able to make those long lasting and meaningful connections that I was seeking to find. Along with that at the MSC-the Multicultural Student Center- I was able to find a community of people on campus who I could relate with as well. I am now a Junior and every semester has had its challenges and to be quite honest I still haven't completely figured everything out but by looking at each challenge from a more positive perspective I've learned to cope with a lot of it and I've also learned that it helps to take each day one step at a time.