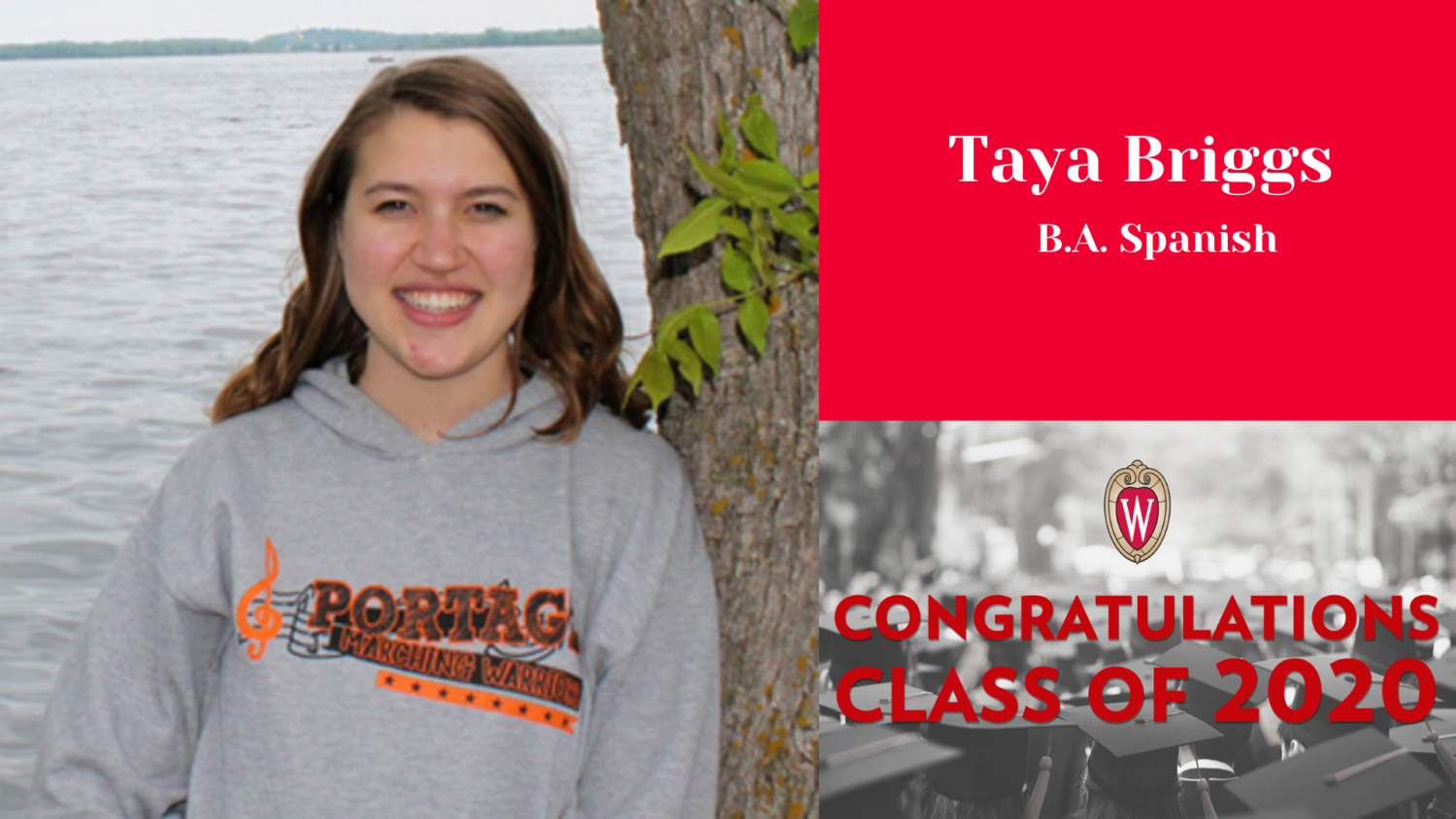 Letting Go, Finding Grace ~ Taya Briggs
Taya Briggs shared this reflection on April 26th, 2020 at Pres House's Graduation Sunday, Part I. You can also watch or listen to it.
Coming into college, I was so excited to choose my major and make a bunch of new friends, but the dilemmas associated with each of these tasks suddenly felt enormous. My major would be the biggest, most important decision I made in my lifetime — right? Except, it wasn't. While each person makes around 35,000 decisions per day, I think I can count on one hand the number of choices or reactions during my college career that have really affected me and who I am today. These huge decisions don't include my major and certainly don't include things like choosing which lease to sign or which social event to attend that one random Friday night, but instead more subtle choices like what to do when my plan A and B fell through.
It's okay to feel uncertainty. I used to think you certainty was a sign of being on the right track, and that how others saw me determined who I was, but uncertainty is healthy, and you determine who you are (no one else does!)
While I was determined to get rid of my "good kid" image as I entered college, the one thing I really wanted to maintain from my lifestyle was my faith. Pres House was only the second church I tried out, but I really loved a few key things that set it apart – mainly how welcoming everyone was. But, when I attended Pres House the first time, it didn't feel like a choice that I immediately vowed to attend from that point on, because it so perfectly aligned with both my religious and political beliefs. The choice came when I attended Freshman small group for the first time; no one (not even Erica) pressured me into attending. I was looking for something, and at the time I didn't know what, but I made the conscious effort to put myself out there and show up for a night. And… at first it was awkward. I didn't know anyone, I hadn't told anyone I'd be going. But there, I met my best friends from college, and they have helped me more than I can ever articulate to them.
It's not what you study, or what you major in that changes the person you are — it's what you choose to do with your time outside of the classroom, and how you react to what life throws your way.
It's okay to fall apart in your life and struggle with your faith.
Second on the list of life-changing events: study abroad. It was both the best and hardest time of my life; on one hand, I had the most amazing experiences that I can never again replicate, like backpacking through countries and living with a host family in a foreign culture. But, it was also hard being away from my family, my boyfriend, and my faith community; in Granada, there aren't any English Protestant services, shocker, so I basically didn't go to church for six months. Friends back home fell to the wayside because of a massive time difference, meaning I also felt incredibly lonely and unnecessary in others' lives. And when I would post beautiful travel photos showcasing my "perfect" life, I would count the likes on each picture to try to convince myself that other people still cared. However, to make the subject a bit brighter, some of the cathedrals that I saw in Europe just took my breath away. I would sit in them for hours and journal, and that was maybe the closest I have ever felt to God — completely and totally scared and out of my element, stripped down to the bare bones of who I am.
When I was in Europe, I also got rejected from nursing school. In high school, I was a three-sport valedictorian, so getting rejected was a punch to the stomach. This also meant my four-year plan would become a three+two year plan for college, because UW-Madison only accepts students once a year. For the first time in college, I felt completely out of control; suddenly it wasn't up to me when or from where I graduated, and how was it possible that a total stranger could control such an important life event for me? How was it possible that they saw a Dean's list, active-in-the-community badger and not find me good enough? For maybe my entire life, the biggest part of my self-esteem relied on school. When I was bullied in primary school, dealt with crippling anxiety in middle school, and had a skin disease in high school, my educational prowess convinced me that I was worth acceptance by my peers. So, being declined from a middle-level nursing program meant that my self-worth came crashing down.
Putting yourself back together teaches you more than staying together in the first place. And, even if you take a break or feel yourself a literal (or figurative) ocean away from your religious community, God won't take a break on you.
It's okay to change your plans.
After finally curating my new plans in the wake of a school rejection, my plan B was also suddenly ruined. I was supposed to get my Spanish major and a "Teaching English as a second language" certificate, but the last class for the certificate wasn't offered this Spring, and so I had to abandon the certificate entirely. Finally, as the Spring semester began, and I finally registered for courses mid-January (a little late to the party, I will admit), I had finally put together my plan C. I would graduate this semester as a Spanish major, and reapply to nursing school. I would prepare for my plan D over the summer, which entailed signing up for a CNA course and applying to one year nursing programs.
But suddenly, another unexpected event hit: quarantine. The fate of my summer CNA class, summer job, and my fall nursing program suddenly became unknown; could I really have to move on to plan E? What even could that be? How was I meant to change my entire plan a third time?
Even though it's scary not to know where I will end up, it is exactly where I need to be right now. And all of these previous experiences prepared me to face that fact. The only thing we can know for sure is what is happening now, and it takes practice to appreciate the present moment.
However, I have realized something. It took me a really long time to learn, and I still have to work on it each day. Amidst all of the crazy uncertainty, my life is coming together. If I had to move to even plan B for a small assignment in high school, the world felt like it was ending; but now, when the world might actually be ending and the plan B is an entire different university program, I can tread the water without it drowning me. And the life that I have lived is better than my original plan — it's more rich and also more difficult, but the difficult part makes it more beautiful.
So, when you feel uncertainty, struggle, fall apart or change your plans, it is okay. You aren't alone, and even God has something to say about the ever-changing plans we try to create. In the book of Jeremiah, God addresses the uncertainty and shifting livelihoods of the Israelites who were living in exile. God didn't forget them during that time, and he doesn't forget you now.
"For I know the plans I have for you," declares the LORD, "plans to prosper you and not to harm you, plans to give you hope and a future." ~ Jeremiah 29:11