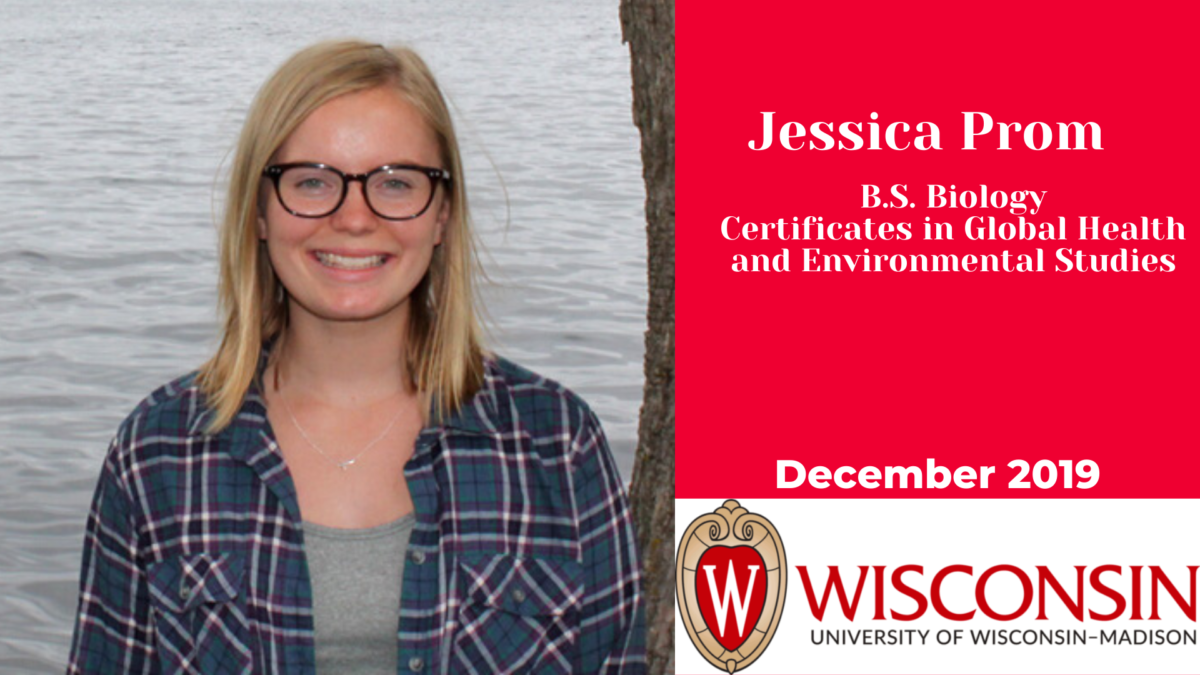 Becoming All of Who You Are ~ Jessica Prom
Jessica Prom shared this reflection on May 3rd, 2020 at Graduation Sunday Part II. You can also watch or listen to it.
As a child, I grew up going to church, and to be honest, it was never something I really enjoyed. To me, it was something you had to wake up early on the weekend for. You would sit in the pews and listen to some guy go on about something that supposedly related to the Bible and to your life at the same time, even though your little 8-year-old life couldn't relate to anything except for recess and chicken nuggets. You then are slowly lulled to sleep by the almighty organ because the ancient hymn text means nothing to your 8-year-old mind. This representation was unfortunately me for the first 10 or so years of my life while my family attended weekly Sunday Catholic mass.
After attending a riveting vacation bible school one summer, mixed with not being totally satisfied with our current church, my family decided to start going to the Presbyterian church that our friends belonged to. This new church had a thriving youth ministry and felt a lot more refreshing compared to what we were used to. Who knew church could be like this? A place where you feel comfortable. A place you actually want to go to. A place that had meaning. This is the definition of church my family came to know and love and was where I spent the rest of my childhood and teenage years.
As an incoming college freshman, I didn't find Pres House in the most traditional way. I knew Pres House existed; however, I managed to be unaware of the plethora of welcome events they host every September. I had to work during the Student org fair that fall, so I had my roommate go in my place and sign me up for the Pres House mailing list along with some other student orgs. Even though I went to the lengths of having my roommate sign me up, and I was receiving the weekly emails thoroughly explaining the happenings and ways to get involved at Pres House, I still found myself not going. At the time, my excuse was the Sunday evening yoga class that I preferred to attend. In reality, I think I didn't really understand where I stood on my faith journey, and it was easier for me to not think about it instead of facing my questions. It was a time in my life when everything was changing so drastically and so quickly that I wasn't really looking for any more challenges.
Into November of my freshman year, I found an email invitation in my inbox to get coffee with Erica. I felt an unexpected sense of security and relief while reading that email. It was an opportunity for me to resolve some of the thoughts I had and gave me an easy way in. Shortly after meeting Erica, I was a regular attendee of weekly Sunday worship and the Freshman Small Group, and later became involved in all the facets Pres House has to offer.
Pres House helped me think through the faith questions I had while teaching me how to find my definition of religion, faith, and God. I learned that it was okay to be confused and to not have a firm grip on what you believe. It was also okay for thoughts to change. It's difficult to have steadfast confidence in God when life is constantly throwing curveballs. Even though I was able to mull over and mostly answer the questions I came in with, Pres House arguably helped me answer questions that I didn't even know I was wrestling with.
As a freshman in college, you start to realize that you are in complete control of your life. You now have the ability to control who you are and who you are going to become. As a child and adolescent, I was rather serious, reserved, and realistic. Make believe wasn't a game I liked to play unless it was "school", and I always had to play the teacher role. I definitely had a fun childhood, but I was not a risk taker and never really "put myself out there". I was respectfully social but never the center of attention. I followed high school and social norms to avoid standing out too much. At the time, this seemed to be what I wanted, so all was well. However, it wasn't until college, and more specifically coming to Pres House, that I realized I had unknowingly put myself in a bubble. Only through the bring all of who you are attitude of Pres House was I able to conquer this.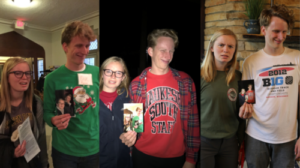 Over my four years at Pres House, I have had numerous opportunities and experiences that I never originally anticipated having during college, but there are three specific instances that I would like to highlight for you all. It started with what Erik Franze and I call "The Inception Photo". This first, and most horrendous photo, was taken at fall retreat my sophomore year. Everyone was down hanging around the fire pit, making smores, playing mafia, and having an overall great time. Somehow, Erica managed to snap this most ridiculous and hideous photo of Erik and I, so terrible that we decided one wasn't enough. Over the years, not only has Erik become one of my best friends, but we managed to capture the essence of our friendship in merely one photo (or is it better classified as three, since it's a photo inside of a photo inside of a photo?).
Later into my sophomore year, Erica was telling me about a dream she had about me over dinner one Sunday evening. In the dream I was a famous popstar and Erik was my number one groupie. Up until this point, no one at Pres House knew I had a background in singing, so it came as quite the surprise when I told Erica how funny the dream was considering I used to sing in high school. I clearly don't quite have famous singer potential, but somehow Erica subconsciously knew! Long story short, in classic Pres House fashion, I found myself on the music team the following year.
This whole story prefaces the second highlight of my years at Pres House. Two advent seasons ago, Pres House did a sermon series called "Christmas in the movies". Mark and Erica talked about a different Christmas movie each week and related them to our faith and the advent season. The final movie discussed was The Grinch, specifically the live action version. Anyone who knows me, knows that the live action Grinch is easily my favorite Christmas movie, and is arguably one my favorite movies in general. Luckily, I was on music team that week and got to sing lead on the Faith Hill classic "Where are you Christmas?". Not the little Cindy Lou Who version, the big and dramatic Faith Hill version. You all know the one.
Anyway… shortly into the song, I realized that no one else was singing along with me and that this had been planned to be a big dramatic solo. How did I miss the memo on that one? I mustered up what little courage I could and sang my heart out to a great song from my favorite movie, well as much as one can compared to the rockstar Faith Hill. This type of performance was something traditionally out of my comfort zone; however, Pres House gave me the opportunity and confidence to tackle it, even though it had been unexpected.
The idea of unexpected happenings brings me to the third highlight of my Pres House career. Last spring the Two+ small group, mainly myself and Steven Chapman, hosted the first ever Presi Awards. This was an event based of the Dundie Awards from the infamous TV show, The Office. We used this event as a way to celebrate the wonderful people here in the Pres House community by giving out awards to all event attendees. Little did I know at the time, that this would turn into quite the comedy show including banter, skits, dance numbers, and a pretend boy band to fill time between awards. This was definitely outside the realm of what I thought Pres House was going to offer me, but looking back, I am extremely grateful to have a community that supports its members in all their endeavors regardless of how goofy they may be.
These three highlights of my years at Pres House are just a small handful of all the wonderful experiences I have been lucky to have here. It's clear now more than ever that Pres House has helped me discover the person I actually want to be. As a freshman, I could not have imagined doing these things that meant putting myself out there for others to see. Pres House gave me the opportunity to grow into the person I've always been but was unknowingly hiding. I was given the chance to explore and create in ways that helped me along my spiritual and personal journey. I encourage you all to embrace the discomfort of being vulnerable knowing that the Pres House community is here to help you along your path of discovery. Becoming who you want to be allows you to bring all of who you are. The Pres House community is what it is today because of people like you and me who bring all of who we are. How can your gifts, known or unknown, be used to grace the people and further the mission of the Pres House community? Remember that, if you bring all of who you are, you will find yourself among friends. I know I have.
And with that, it is my honor to present the one and only Presi Award for the 2019-2020 school year to Pres House. A building, a church, a home, a family: one that we are all blessed by and truly grateful to be a part of. Thank you.