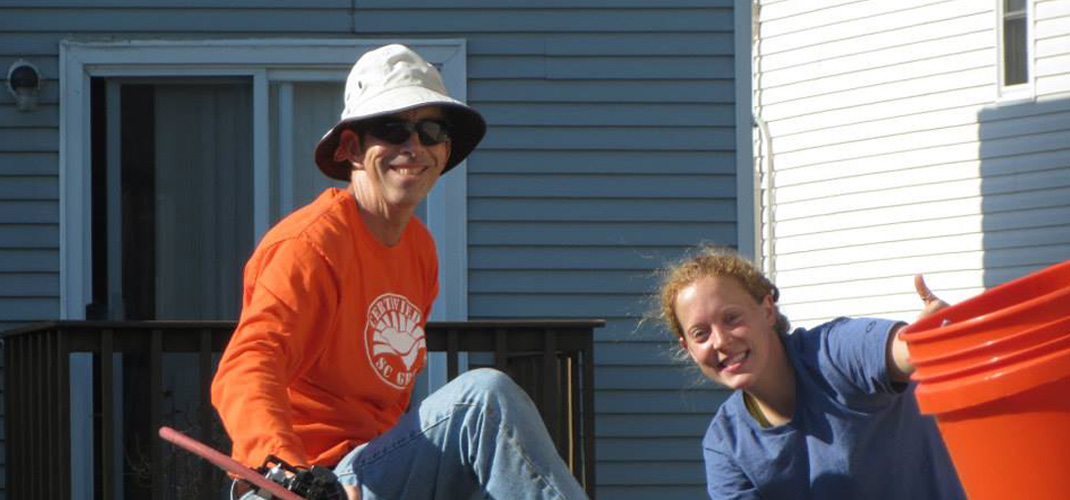 One year ago this week Hurricane Sandy slammed into the East Coast of the United States. Sandy has been the second most costly hurricane in U.S. history and was the deadliest Atlantic hurricane of 2012. One year later, staff of the Episcopal Service Corp on Staten Island (including Erin Stumbras, UW-Madison and Pres House alum) share reflections below about where things are today. Pres House will be traveling to Staten Island and New York City this coming Spring Break to assist in relief efforts. Visit here for more information about our trip. 
After Hurricane Sandy ripped through Staten Island, destroying about a quarter of the Island, there was an enormous outpouring of kindness and compassion from the community.  Thousands of people whose homes were spared the destruction of Sandy came to the aid of their neighbors who lost everything. Young and old showed up to help clean streets, homes, beaches and parks. People realized that whether or not their home was damaged they were still part of this storm and it served as a catalyst to really bring everyone together with a common purpose of rebuilding community. This pulling together lead to the creation of the Long Term Recovery Organization – a collaboration of over eighty organizations to better serve the Staten Island community throughout the process of recovery. This organization is an attempt to capitalize on the idea that things get done better together than apart.
It was remarkable to see how within six months a sense of normalcy returned due to the hard work and collaboration of many organizations.  And, although the most visible destruction of Sandy has been removed – debris, boats on the streets, houses that were scattered across fields – the situation is still desperate for many people.  There are still hundreds of homes that need to be rebuilt.
It has been disheartening to see so many homeowners having to fight insurance companies to collect from their insurance policies. Many people have been told they weren't covered by their polices due to technicalities.  I have spoken to many homeowners that were not compensated fairly by their insurance companies and are left to rebuild their entire home with little or no money.  Despite the lackluster response of the government and the insurance industry, Staten Island is recovering.  Through the generosity of many disaster response programs like the Episcopal Church and other non-profit organizations, the homeowners have found some hope with rebuilding their lives.
Beyond the immense challenge of rebuilding, homeowners also have the looming challenge of figuring out how to afford to raise their homes the required ten to fifteen feet that the government and insurance companies will be requiring in order for them to qualify for future insurance coverage.  It will cost thousands of dollars that many simply don't have, in addition to the long term increase in cost of flood insurance.
While many homeowners are still facing a variety of challenges, the community also faces challenges of maintaining togetherness to see everyone to complete recovery. This community has withstood so much and needs to keep working together to ensure that the character of the neighborhoods remains intact. As time moves forward and Sandy is replaced by more immediate and visible disasters the work of the disaster response organizations becomes even more important. While many challenges remain, the community of Staten Island holds onto hope while moving everyday towards recovery.