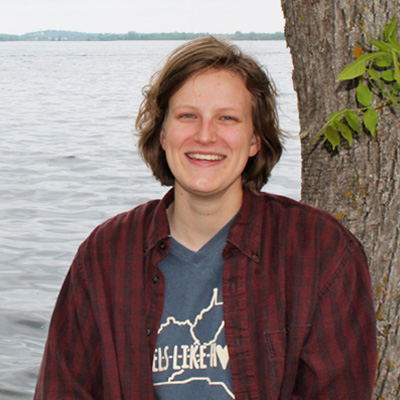 Graduation Reflection – Clare Aeschbacher
Clare Aeschbacher graduated from UW-Madison in May 2019 with degrees in Environmental Sciences and Community & Environmental Sociology and a certificate in Sustainability. You can also listen to their reflection here.
Early in my sophomore year of college, I decided that it was time for me to find a faith community on campus. I figured I'd try out a bunch of churches and groups and eventually settle on one I liked the most. However, this plan quickly changed after I visited Pres House for the first time. Though it was only the second of my church visits, I knew right away that I found the right community and I needed not look any further. Within the first few minutes of my visit, I was greeted by Billie Scambler, who I had met briefly the year before as we lived in the same dorm, though on different floors. The music team welcomed me as a new guitarist and I began to find my place at Pres House.
Spring semester that year I studied abroad and Billie reached out to me again, this time to join Council. I didn't know much about Council, but I decided to give it a try. As the Council retreat neared, I realized that the only person that I knew on Council was Billie, and I immediately panicked, not knowing what the weekend would entail with these mostly strangers. After less than 48 hours on this retreat, these strangers quickly turned into friends and people that I knew I could trust and who I knew I wanted to spend more time with. After two more years, I consider them, and many others in this building, not my "church friends" but my friends, period.
This building, this community, is something special, magical. My experiences here pushed me so far out of my comfort zone at times, allowing me to learn and grow more as a person and in my faith. It is the place where I went when I felt like I had nowhere else to go in Madison. It is the place where knew I could completely be myself with celebration and no judgement. I want to thank each and every person here, whether it's felt like I've known you forever, or we've never spoken to each other. Thank you for being here, this community would not be the same without any of you. I encourage everyone here to take a step out of their comfort zone. This is a safe place to do so and you will be rewarded internally. I am forever grateful of the opportunities that I received here to try new things — whether that be playing guitar on the music team or reaching out to our neighbors experiencing homelessness through Bake, Pray, Love. There is something here for everyone to get involved in. And that is what makes this place so special. Pres House isn't a house; it's a home. It's the people here, you all, that make that distinction. Pres House's motto says to come and find yourself among friends. That's not true for me. Here, I find myself among family.