Eating Together
Eating together is a sacred act at Pres House, one we consider to be a central part of our worship experience. Every week we celebrate the Lord's Supper and we continue that feast when we head down to Lower Hall for dinner. Local churches prepare a home-made meal and people are invited to sit down and share food and conversation. Through this regular rhythm of breaking bread with new and old friends, we experience the tangible grace of Jesus that invites all people to his table.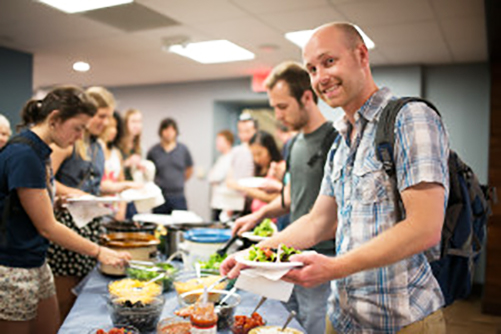 You're Family Now!
One of the ways you know you are no longer just a guest but part of the family is when you start rummaging around the kitchen like it's your own home. We are blessed to have a wonderful place to experience the joy of eating together and all family members are encouraged to take their turn "setting and clearing" the table. It's a fun way to get to know others and help keep our house in order.
Sign up here to help "set" or "clear" the table on one or more Sundays; it's easy and makes our family time much more enjoyable for all!