Summer Worship ~ Faith Dinners
Tuesdays, 6:30 PM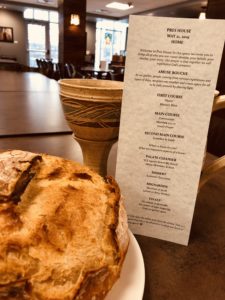 During the summer months (which on campus means mid-May to mid-August), Pres House does church a little differently for worship. We recognize that many people travel on the weekends during the summer and have a different rhythm during this season. We want to create a weekly gathering and space that engages people and encourages them to invite others to join them. We also want to expand the definition of what it means to do church together.
This summer we will gather each week to feast on words, bread, and a homemade meal. Meet us in Lower Hall, and if the weather's nice, we'll sit outside on the patio. Each week community members are invited to help with the menu, whether cooking in the kitchen or contributing menu themes. Contact Becca to get involved!
An RSVP for dinner is helpful for us in planning for enough food.
"Regular" Sunday Worship in the Chapel resumes on August 25th, 2019 @ 4:30 PM.