Welcome to UW-Madison!  Pres House is one of the best places on campus to find deep friendships, engagement, and community. Pres House welcomes all new students from all backgrounds. Bring ALL of who you are!
We invite you to join us for one or all of the following activities to get connected and find yourself among friends.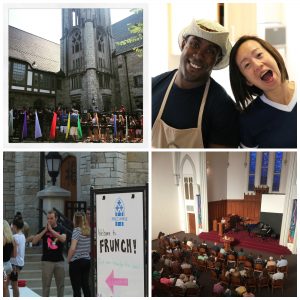 Weekly Worship Service and Dinner: Sundays @ 4:30pm
Worship at Pres House is creative, casual, and meaningful. Students from all church backgrounds (or none) are welcome. Free dinner following service.
Join a Small Group
Being a part of a small group is one of THE BEST ways to get connected with new friends and find support in your first semester on campus.
Need a good place to study? Pres House Study Lounge is here for you. Open Monday-Friday 9am-5pm and Sunday 2pm-9pm
Free coffee, WiFi, and friendly faces. Bring friends. All are welcome.
Check out our special events for this semester!
Like us on Facebook, follow us on Twitter or Instagram (Pres House), check out the rest of our website for more about Pres House, or stop by (we are the churchy looking church right on Library Mall). Pastor Mark and Pastor Erica are always available to meet new students and welcome you to campus with a free lunch or coffee. Stop in or drop them an email.
Want to know more? Check out some of these links:
About Pres House
Leadership opportunities
Volunteer Service Opportunities
Commitment to Justice
Living in the heart of campus – PH Apartments