Bring all of who you are. . . to the Music Team.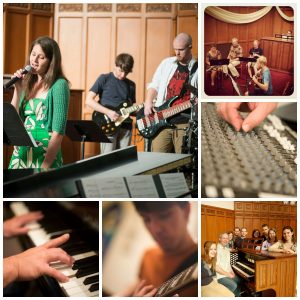 Music is a powerful way we can connect with God and each other.  If you are musical, consider yourself invited to join the Music Team!  Pres House worship endeavors to include a wide variety of worship, including: contemporary music, favorite hymns, Taize, Gospel, and global worship songs.  This means that a variety of instruments and voices are needed to help lead our community in song. Whether you sing, play guitar, organ, saxophone, violin, drums, there is a place for you on the Music Team. University of Wisconsin students (undergrads and grads) as well as young professionals are welcome to join the music team. Rehearsals are Thursdays from 6:30-8:30PM in the chapel.
Interested in joining our AV Tech Team instead?  We need you on the sound board, or on the computer running slides.
Audio Visual Volunteers
Pres House is in need of Audio Visual (AV) volunteers for Worship on Sundays and some Thursday rehearsals.  There are two ways to help: 1) Run slides on powerpoint – this job is easy and a quick learn and vitally important to worship.  2) Mix Sound for Worship -you will run sound for the worship band and anyone who speaks.  This has a bigger learning curve, however, we have a user friendly sound board and system!  You need an ear for music and a love of technology.  Training will be provided. 
Musicians/Vocalists
All musicians are invited to find a way to plug into the music program at Pres House!  This year we are specifically in need of an organist and male vocalists.  But all instruments and singers are welcome!
Please contact Natalie or fill out the form below.