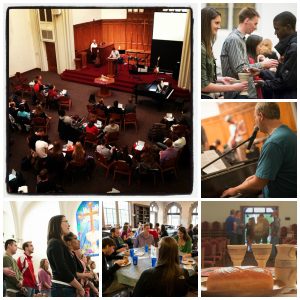 Worship at Pres House 
All are welcome!
Sundays, 4:30pm (during school year)
SUMMER WORSHIP ~ CHURCH UNBOUND
Thursdays @ 7pm (May 17th – August 16th, 2018)
Life brings changes. At Pres House, Sunday worship too is shaped in our changes. We try new things. We craft a space for worship not simply by a tradition or a set way of "doing church," but by the people who form our gathering. Together we ask, what is real? What is important? Who was Jesus? How should we live our lives? We are met in our questions with an invitation to engage ourselves and an opportunity to grow.
Sunday worship at Pres House includes music (a mixture of traditional hymns and contemporary praise music), scripture readings, a sermon, prayer, communion, eating together, and other creative elements.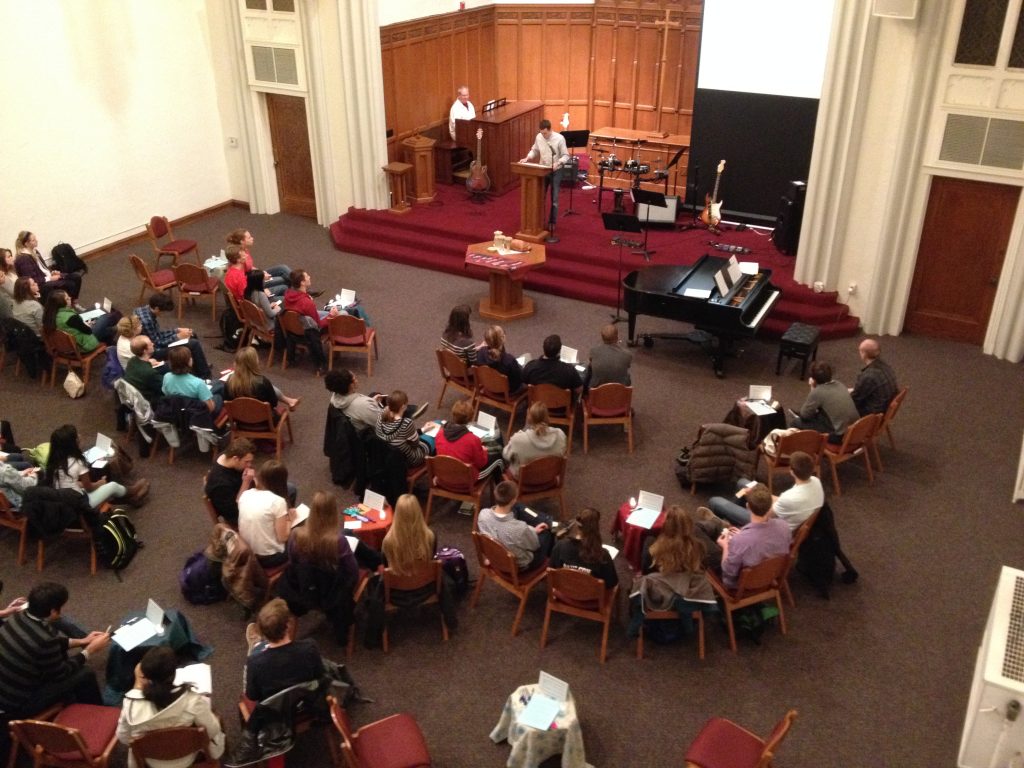 Our Worship Space
We set up our space a little differently than you might expect; we sit in clusters around a table. Here are some of the reasons why:
Worship is a communal time for us to be together; we are sitting around a common table, both literally and metaphorically, as families do
Worship of God requires something from each of us; we are not passive recipients at a lecture or show, we have come to worship God!
Worship involves our whole bodies and senses–we listen, see, smell, touch, and taste
Being a little uncomfortable is normal and it's okay if you find it a bit awkward; the Holy Spirit often shows up in those moments and blesses us with grace (and remember, worship is not so much about our comfort zone as it is about focusing ourselves on God)
That being said, we welcome one another, friend and stranger alike; we practice gracious hospitality when we come together as a mark of following Christ–so we encourage you to greet those around you
Students and young professionals attend worship at Pres House from a variety of backgrounds including different religious backgrounds, race, ethnicity, gender identity, socio-economic backgrounds, political persuasion, or sexual orientation. Some are Presbyterian, many come from all kinds of different denominations, and others have little or no church experience. All are welcome!  You are not expected to think, dress, act, or believe a certain way to participate in the worship and community life at Pres House. Bring all of who you are and find yourself among friends.