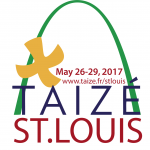 You are invited to join Pres House and thousands of young adults from all over the world at this year's Taize Pilgrimage of Trust in St. Louis from May 26-29. We will be partnering with students from St. Francis House Episcopal Student Ministry and His House here at UW Madison for this once in a lifetime experience.
The Pilgrimage of Trust is an event that is meant to bring together people of various backgrounds, whether that be socio-economic, racial, faith, or more.  Each day will be focused on the Common Prayer in the style of the Taizé community (morning, afternoon and evening) and will offer workshops in between the prayers. These workshops will be offered on a variety of topics that can help foster a deeper understanding of one another and the core issues which often divide us. St. Louis (and nearby Ferguson) has experienced significant racial tension and division in recent years. Workshops will also be offered focusing on areas that unite us, such as scripture, the search for beauty through art and music, service and more. The brothers of Taizé have been invited to help heal many of the obvious divisions that exist across the St. Louis community.
The St. Louis Pilgrimage of Trust will be held Memorial Day weekend 2017. It will begin with Evening Prayer on Friday May 26th and conclude with afternoon prayer on Monday May 29th. We will leave Madison on Friday morning, May 26th and return late on Monday, May 29th. The primary events will be held at St. Louis University.
The cost for this trip is just $45 for the event registration and some incidental food costs on the trip. Pres House will be covering your transportation to and from St. Louis.
In order to make the most of this experience and be well prepared all participants are required to attend the following three activities in preparation for the trip:
1. Chose to attend at least one event related to racial justice/reconciliation (this is a core theme of the pilgrimage trip):
– February 7:  Race & Faith event @ Pres House, with 10+ ecumenical partners; Second in the series begun last year.  Theme is "Seeing Color," with 5-7 local storytellers presenting stories from their experience
– March 8:  Dinner and Documentary Screening of the film "13th" at Pres House.  Film examines the 13th amendment and relationship between slavery and contemporary incarceration.
– April 19:  Stories, How to Find & Tell Your Own, with His House @ St. Francis House. An evening with local writer/poet/storyteller Rita Mae Reese.
2. Chose to attend at least one experience of Taize style prayer:
– January 29: Combined Taize style worship service with SFH/Pres House/His House * 4:30pm at Pres House
– Any of the monthly Taize style prayer services held at St. Francis House throughout the semester on the first Sunday of each month from Feb to May.
3. Attend a logistics planning meeting to be held in April (date TBA)
Use the form below to register today for this incredible opportunity!
Extended Registration is due by Sunday, April 2nd.