BEING SPIRITUAL AND SOCIAL
"The spiritual life does not remove us from the world but leads us deeper into it." ― Henri J.M. Nouwen
Social issues are highly spiritual issues. Our love of God is deeply interwoven with our love of people, and so how we engage these social issues reveals much about our lives with God. This retreat we will take time to engage spiritual practices that connect us deeper to God through compassion towards neighbor. These spiritual practices will include prayer in the style of Taizé, an ecumenical monastic community whose central ethos is reconciliation, scripture reading, contemplation, and more. We will explore why it's important to cultivate a rhythm of praxis and reflection, or action and contemplation, where we are in the habit of regularly stopping and prayerfully considering what has occurred and how God is calling us to participate next.
Session I – Who Do You Say That I AM: Practices of Story
Session II – The Life-Changing Magic of Spiritual Tidying Up: Practices of Simplicity
Session III – Won't You Be My Neighbor?: Practices of Solidarity
This year the Pres House Fall Retreat will be the weekend of October 21-23, 2016 at beautiful Lake Waubesa Bible Camp and led by the Rev. Mihee Kim-Kort.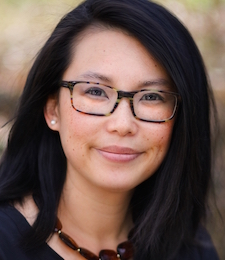 Rev. Mihee Kim-Kort is an ordained Presbyterian minister serving as pastor for UKIRK at Indiana University in Bloomington, Indiana. She is author of the books Making Paper Cranes and Yoked, and an editor and contributor to Streams Run Uphill. Her writing can be found at the Christian Century, Huffington Post, Time Magazine, Duke's Faith and Leadership, On Being with Krista Tippett and more. When she's not occupied by her three children and husband she spends time reading, organizing ecumenical and inter-religious gatherings locally and virtually, and fighting the weeds in her garden.
---
The Pres House Fall Retreat is for you to…
PLAY, REST, EAT GOOD FOOD, LAUGH, MAKE NEW FRIENDS, SLEEP, SWIM IN THE LAKE, REFLECT, HIKE, PRAY, WATCH SUNSETS, PLAY SPORTS, PLAY GAMES, HAVE FUN…
Friday, October 21st
Depart Pres House 7:00 pm
Intro and Social Time
Saturday, October 22nd
Breakfast
Session I
Lunch
Free Time (Kayaking, canoeing, relaxing, and studying if you need to)
Dinner
Session II
Campfire and Free Time
Sunday, October 23rd
Breakfast
Session III
Closing
Depart for Madison; back on campus by noon
Click here to register online.