A HIDDEN WHOLENESS
A Circle of Trust Retreat
Click here to register online.
During this short weekend retreat we'll explore our yearning to live undivided lives – lives that are congruent with our innermost truth and life of faith.  In a culture that continually distracts us and invites fragmentation, it is often hard to both listen to our heart and to remain true to its call as we pursue our more public lives.
This retreat will feature interactive activities as well as personal reflection. We'll explore ideas together, as well as in silence. We'll explore watershed moments in that have defined us in powerful and life giving ways; as well as how we remain faithful to what those moments teach us about ourselves. We'll play with the difference between ego stories and soul stories and examine the power of the metaphor known as the Mobius strip to shape how we understand who we are in relationship to others. We'll learn and practice the skill of deep listening and power of honest and open questions.
These activities are rooted in the work of author Parker Palmer (A Hidden Wholeness, Let Your Life Speak, The Promise of Paradox, The Courage to Teach) and the principles and practices of the Center for Courage and Renewal. In a Circle of Trust, we are invited to slow down, listen and reflect in a quiet and focused space. At the same time, we engage in dialogue with others in the circle – a dialogue about things that matter. As this "sorting and sifting" goes on and we can clarify and affirm our truth in the presence of others.
This year the Pres House Fall Retreat will be the weekend of November 3-5, 2017 at beautiful Lake Waubesa Bible Camp and led by the Rev. Winton Boyd.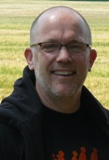 Winton Boyd has served as Senior Pastor at Orchard Ridge United Church of Christ in Madison, WI since 1999 and as a Courage & Renewal Facilitator (CCR) since 2007. Winton is dedicated to helping participants explore their 'inner teacher' in a safe and spiritually open way. He has worked with people of faith in multiple contexts and embraces the insights and pathways of multiple spiritual traditions while residing himself within the Christian way. He has found that the power of open and honest questions in our relationships and in our own inner life have the potential to reveal new and transformative understandings. In his spare time he loves to read, write, run, bake, travel, and garden. He and his wife, Tammy, have three young adult children.
---
The Pres House Fall Retreat is for you to…
PLAY, REST, EAT GOOD FOOD, LAUGH, MAKE NEW FRIENDS, SLEEP, SWIM IN THE LAKE, REFLECT, HIKE, PRAY, WATCH SUNSETS, PLAY SPORTS, PLAY GAMES, HAVE FUN…
Friday, November 3rd
Depart Pres House 5:00 pm (later cars available)
Intro and Social Time
Saturday, November 4th
Breakfast
Session I
Lunch
Free Time (Kayaking, canoeing, relaxing, and studying if you need to)
Dinner
Session II
Campfire and Free Time
Sunday, November 5th
Breakfast
Session III
Closing
Depart for Madison; back on campus by noon
Cost is $70 which covers meals, lodging, and program. $10 discount for first time attendees and for returning attendees who bring a first-time attendee. Scholarships also available.
Click here to register online.