Trips & Retreats
Fall & Winter Retreats
Retreats are one of the highlights of our year. It's a time when new friendships are born and bonds are deepened as we step away from the normal rhythms of life on campus to play, eat, worship, and rest.
Fall Retreat happened on October 22-24, 2021; Winter Retreat on February 25-27, 2022. Missed out? Plan to come to the Holy Wisdom Spring Retreat on April 23.
Break With A Purpose 2022
Ft. McCoy ~ January 17-23, 2022
We are excited to partner with Wisconsin Council of Churches to volunteer at Ft. McCoy where over 13,000 Afghan refugees are being temporarily housed. Click here for more information about this opportunity.
Break With a Purpose is our annual winter break trip. BWAP is not a "mission trip"; we don't go to bring God to others, but rather to learn about what God is already doing in the world and to partner with those who are co-laboring with God in that work. Check out what previous BWAP participants have shared about their experiences with hurricane relief work in Florida and learning about immigration and housing at the border in San Antonio.
Past Pres House trips include:
Hurricane Relief Work (Panama City, FL)
Immigration & Housing (San, Antonio, TX)
Flood Relief Work (Louisiana)
Faith, Service & Justice (Center for Faith & Service, Chicago)
Hurricane Sandy Relief Work (New York City)
An Alabama Experience: 1963-2013 (Selma, Montgomery, Birmingham)
Tornado Relief Work (Joplin, Missouri)
Washington D.C. (Exploring poverty issues, visits to Sojourners, PCUSA Office of Public Witness, construction)
Pine Ridge Reservation, South Dakota (Volunteering with Re-Member)
Chavies, Kentucky (Volunteering with Appalachia Service Project)
Heifer Ranch (Arkansas)
Eco-Spirituality Retreat
But ask the animals, and they will teach you;

the birds of the air, and they will tell you;

ask the plants of the earth, and they will teach you;

and the fish of the sea will declare to you.

Who among all these does not know that the hand of the LORD has done this?

In God's hand is the life of every living thing

and the breath of every human being (Job 12:7-10).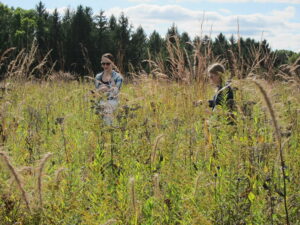 An eco-spirituality retreat is an invitation to reflect on our relationships to land and the impact of those relationships on our spiritual lives. Our 2019 eco-spirituality retreat at Holy Wisdom Monastery was a great success. We look forward to another day-long retreat at Holy Wisdom, tentatively planned for April 23, 2022.