Trips & Retreats
BWAP 2020 Destination Will Be Announced this Fall 2019 – Stay tuned!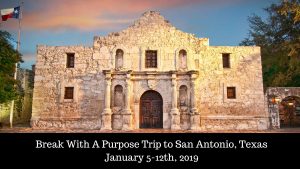 BREAK WITH A PURPOSE: SAN ANTONIO, TEXAS ~ January 5-12th, 2019
This past year we went to San Antonio to learn about the complex issue of immigration and to help repair sub-standard housing.  You can read about some of the team's experiences here.
Past Pres House trips include:
Flood Relief Work (Louisiana)
Faith, Service & Justice (Center for Faith & Service, Chicago)
Hurricane Sandy Relief Work (New York City)
An Alabama Experience: 1963-2013 (Selma, Montgomery, Birmingham)
Tornado Relief Work (Joplin, Missouri)
Washington D.C. (Exploring poverty issues, visits to Sojourners, PCUSA Office of Public Witness, construction)
Pine Ridge Reservation, South Dakota (Volunteering with Re-Member)
Chavies, Kentucky (Volunteering with Appalachia Service Project)
Heifer Ranch (Arkansas)