Holy Wisdom Spring Retreat
Saturday, April 23 | Holy Wisdom Monastery (4200 County Road M, Middleton, WI 53562)
Our spring eco-spirituality retreat at Holy Wisdom Monastery will be a great opportunity to spend time in nature reflecting on some of life's biggest questions. As we wander and work the land together, we will discuss the importance of rhythms of activity and rest, how knowledge of self is connected to knowledge of God, and how caring for the earth teaches us to care for ourselves. We will spend time with the sisters at Holy Wisdom Monastery, who will teach us some of the history of the land at Holy Wisdom and how they are working to restore and care for it. They'll also share about monastic life and how their order's daily rhythms are structured around Benedictine values: beauty, balance, simplicity, silence, and respect for all of creation. And — in true Pres House fashion — we'll eat some delicious food! We will leave with our hands dirty and our spirits refreshed. Students of all faiths (or no faith) are welcome.
The registration fee is $20. However, if you are a first-year undergraduate student, you can register for a discounted rate of $10. Scholarships are also available if you are unable to pay the full cost of the retreat; please contact Nii if you need a scholarship. The deadline to register is April 15.
Holy Wisdom Monastery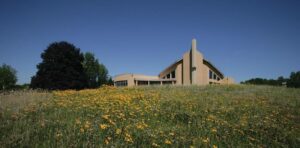 Holy Wisdom Monastery, home of Benedictine Women of Madison and a community of ecumenical Benedictine communities, weaves prayer, hospitality, justice, and care for the earth into a shared way of life. The sisters of the monastery welcome people into sacred space and a community of communities to pray, study and nourish one another. Compelled by the Gospel and rooted in the Benedictine tradition, Holy Wisdom supports personal and community growth as it lives out its mission and values in a changing world. Learn more about Holy Wisdom on their website.
9:30 am – Depart Pres House
10 am – Arrive & gather at Holy Wisdom Guest House
11 am – Session 1
12 pm – Lunch
1 pm – Session 2
2:30 pm – Break / Free Time
3:00 pm – Session 3
4 pm – Depart Holy Wisdom
4:30 pm – Arrive at Pres House
*** All participants must be fully vaccinated against COVID-19 and receive a negative COVID test 48 hours before 4/23/22.