Pres House Fall Retreat
Click here to register online. Deadline to register is October 5th.
"Following Christ on a ZigZag Path"
Go to school, get a job, have a family, retire… right? That's the predominant, normative narrative in our American context. But most of our lives don't resemble this path. We will explore what it means to live out our faith and God's call, use our skills, discover our passions and commitments, and how to take it all with a grain of salt, through Bible study, discussion of social trends and realities, and sharing.
This year the Pres House Fall Retreat will be the weekend of October 12-14, 2018 at beautiful Lake Waubesa Bible Camp and led by Rev. Laura Mariko Cheifetz (pronouns: she/her/hers).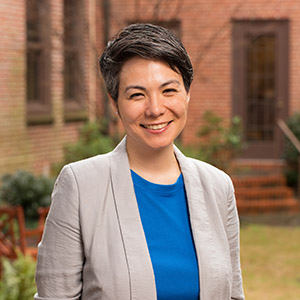 Laura Mariko Cheifetz is the Deputy Director of Systems & Sustainability at the National Asian Pacific American Women's Forum. She makes sure the whole organization runs relatively smoothly, and is delighted to be able to work on behalf of her own community for reproductive justice. Before her work with NAPAWF, she worked in publishing and theological education. Laura is multiracial Asian American of Japanese and white Jewish descent. She was the fourth generation of her family to be born in California. She grew up in eastern Oregon and western Washington. Laura has a B.A. in Sociology with a minor in Spanish from Western Washington University, an M.Div. from McCormick Theological Seminary, and an MBA from North Park University. She is an ordained minister in the Presbyterian Church (U.S.A.) Laura and her partner, Jessica, live in Decatur, GA with two opinionated Shih Tzus.
The Pres House Fall Retreat is for you to…
PLAY, REST, EAT GOOD FOOD, LAUGH, MAKE NEW FRIENDS, SLEEP, SWIM IN THE LAKE, REFLECT, HIKE, PRAY, WATCH SUNSETS, PLAY SPORTS, PLAY GAMES, HAVE FUN…
Friday, October 12th
Depart Pres House 5:00 pm (later cars available)
Intro and Social Time
Saturday, October 13th
Breakfast
Session I
Lunch
Free Time (Kayaking, canoeing, relaxing, and studying if you need to)
Dinner
Session II
Campfire and Free Time
Sunday, October 14th
Breakfast
Session III
Closing
Depart for Madison; back on campus by noon
Cost is $70 which covers meals, lodging, and program. $10 discount for first time attendees and for returning attendees who bring a first-time attendee. Scholarships also available.