FOOD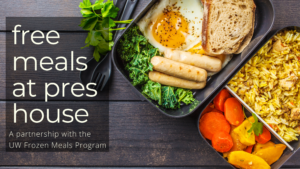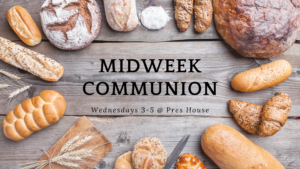 Free Frozen Meals for UW-Madison Students ~ Resumes January 22nd
The mission of the UW Frozen Meals Program is to provide frozen meals at no cost to students who face food insecurity while simultaneously reducing food waste on campus. Come by on Mondays and Thursdays from 3-5pm and receive free frozen meals; no registration required, no questions asked.
Interested in volunteering? Click here to help receive and distribute meals!

Midweek Communion ~ Wednesdays, 3:00 – 5:00 PM (resumes January 27th)
Sharing food with others is a core practice of the Pres House community, in the spirit of what Jesus instituted at the last supper. We will share the words of institution and prayer around the table in the Chapel at 4:00 pm. Stop by on Wednesday afternoons to pick up a freshly baked treat and be encouraged!
Events
Pres House GatherTown Open House ~ Wednesday, February 3rd, 6-8pm (Online)
Come by our virtual gathering space where you'll meet other students and take a tour. Click here to enter Pres House GatherTown; you can choose your avatar and then use the arrows on your keyboard to move around.
Treat Meet Tour ~ Saturday, February 6th, 2-4 PM (In-person)
Come by Pres House for a brief tour of the building where you can check out our study space, Chapel, and pick up a delicious, homemade cookie! This is a great chance to meet other students too. COVID protocols in place, masks required to enter and entrance is monitored to ensure safe capacity.
Study Lounge ~ Opening February 8th
Our lounge will be open for students who want a place to study. All seating areas are at least six feet apart, and air purifiers are running at all times, and there is a capacity limit. In compliance with Dane County's latest health order, masks are required at all times inside the building; we can provide you with a mask if you don't have one. Food is not permitted in the lounge, but you may bring something to drink.
What's the Tea?
"What's the Tea?" is a conversation series where four Pres House staff sit down to discuss topics in our community: current events, social and political issues, and the tough topics we might like to avoid. 30 minutes, unscripted. We're done for 2020; stay tuned for what's next in 2021!
Previous Conversations
"Home for the Holidays?" ~ 12.09.20
"Winners and Losers" ~ 11.04.20
"I don't know you but I hate you" ~ 10.21.20
"Coming Out" ~ 10.07.20
"Only ___ People Can Talk" ~ 09.23.20
"Onnn-line Wisconsin!" ~ 09.09.20
"Eight Point-Blank Shots" ~ 08.26.20
"Questions we're nervous to ask our _____ friends" ~ 08.19.20