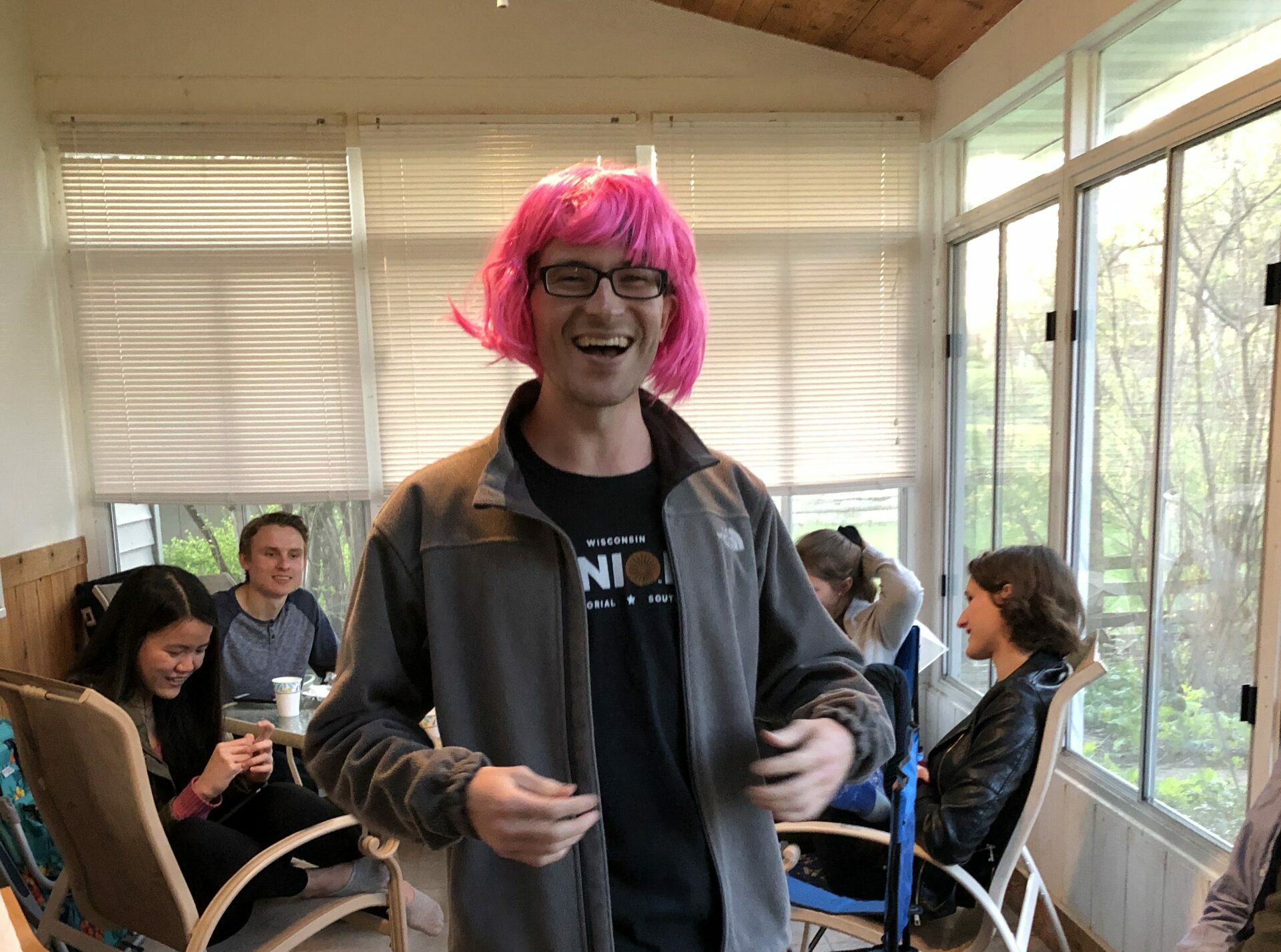 Finding Myself Among Friends ~ Steven Chapman
About 8 years ago, including most of college before starting grad school here at UW, I never really considered myself a religious person. I actually had a lot of problems with what I perceived as Christianity and with some people who identified as Christian. This timing coincided with a shift in my own identity transitioning from a "church-going kid" to an adult gay man who wanted a career in chemistry. I was definitely struggling to acknowledge my sexuality, and the only messages I knew about being gay from a religious point of view were less than reassuring on the matter. It was difficult for me to reconcile the apparent incompatibilities of being a gay Christian, which led to a fair bit of resentment and dislike of Christianity. I know I'm not alone in these feelings, and I honestly think it was justified. A glance through the news or social media shows an amplified voice of opposing opinions and policies under the guise of Christian values. When I was in college, I couldn't understand how Christianity preached of God's unconditional love while simultaneously being weaponized in our political and legal landscapes. Because of this, my past relationships with Christianity, to say it simply, had been rocky. About 8 years ago, I didn't want to identify myself as a Christian, because I thought that both Christianity and I had some serious work to do in clarifying our identities. For me specifically, I needed time to learn how to be comfortable sharing my identity with others.
I got serious about this in 2016 when I moved to Madison to start grad school in the chemistry department. Without a doubt, one of my best decisions in grad school was walking through the doors of Pres House one Sunday afternoon in August. Waiting in line for dinner my first Sunday, I noticed a pride flag on a bulletin board downstairs. That's when I decided I would definitely give this place a try. During that first semester, some of the first people I "came out" to were friends from this community. A little while later, this was the first space I truly felt comfortable to be myself. Over the next 5 years, Pres House and the family I met here transformed the way I thought about myself. I learned that my sexual identity and religious views didn't necessitate internal conflict, and I had the incredible privilege of watching my fellow students navigate being LGBTQ+ Christians with such grace and introspection. This gave me something to strive for. Erik taught me how to show confidence in my identity. Becca taught me how our being vulnerable with our identities strengthens our relationships with friends and chosen family. And there are lessons from many others. Plus, through many conversations and coffees, Erica helped me dismantle my old self-deprecating thoughts about the incompatibilities of being queer in a religious context that I had subconsciously learned years prior. With the formation of the small group Queerly Beloved, I watched as Becca paved the way for more open & honest discussions about gender and sexual identities through a Christian lens. I couldn't have been happier seeing this space. From where I started 8 years ago, I never imagined this was possible. My heart has had so much joy here at Pres House.
This community has fundamentally changed how I view myself and how I am able to share my identity with others. Beyond this, and much more simply, Pres House has provided me with a structure and an outlet outside of my graduate program. Getting involved with Pres House at a deeper level allowed me to meet and find some of my best friends here at UW. I grew to know other grad students like Mary, Evan, Chris, Drew, Mishka, Andrea, April, Jeff, Kathryn, and Owen, all in different departments across campus, and we would discuss any and all topics on Thursday morning over coffee. I'm pretty sure we restructured the entire collegiate sports franchise one morning. Plus, through retreats and being on the council, I built incredible friendships with the undergrads at Pres House. Jessica and I planned and performed "The Presies" – an award show for folks in the community. Jacob, Stephen, Silas, and I were pretty consistently the Chalking Ninjas for recruitment events, where we'd drive around campus late at night and write messages on the sidewalks to get the word out about Pres House events. If I shared about all the friends I met because of Pres House, we would be here all night. But something that I think sums it up well is that a few months ago for my PhD defense, some friends from Pres House hopped on a Zoom call and cheered me on for the final milestone of my PhD. And if these friends will voluntarily listen to me talk for an hour about stereoselective synthesis from the photoexcited state, you know you've got some great people in your life.
Today is graduation Sunday, so where am I going from here? A few months ago, I moved to the Chicago area to work at Northwestern for a few years. This move and spending some time on a new campus has made me appreciate all over again how unique Pres House and this community is. In terms of my faith, I still have some questions, some doubts, and I still don't feel a need to label my religious identity in any way. But I see these questions as something to celebrate. We're all still on our faith journeys, discovering a little more each day with the different eras of our lives. But here at Pres House, I've learned that my personal identity and my religious identity can work together in a synergistic way. I've seen the best of what faith-based and thoughtful responses and actions can do to shape a person, a community, and a campus. And I've been energized by Erica's sermons that inspire personal reflections and inspire calls for action to put our faith into motion when we see an injustice in the world. I doubt I'll ever find a place quite like this again, particularly at a time in my life when it felt so needed. I'm leaving Pres House much more whole than when I first walked through those doors. And I'm leaving with an incredible group of friends, a support system, and a new clarity for myself. Thank you all for creating this family together.
Steven Chapman graduated in December 2022 with a PhD in chemistry. He offered this reflection on Grad Sunday (May 8, 2022); you can also watch it online here.