Justice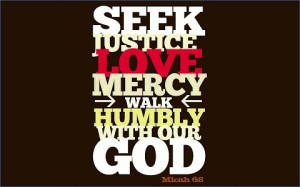 Pres House wishes to acknowledge its buildings sit on the traditional, ancestral homelands of the Ho-Chunk people and honor the long heritage and living legacy of Native Americans here in the Madison (Four Lakes) area. 
At Pres House, our faith is expressed by an integrated commitment to what the Lord requires of us: "To do justice, and to love kindness, and to walk humbly with our God." (Micah 6:8)
This page compiles some of our writings and resources related to justice. It is a reflection of the larger, ongoing efforts woven into everything we do. We invite you to be a part of discovering what it means to love all our neighbors with the radical grace that Jesus demonstrates.
Gender and Sexuality
Pres House is an open and affirming community that welcomes the full diversity of God's people. We strive to recognize and celebrate the gifts of LGBTQ people in faith communities, and heal the harms of faith-based discrimination.
Staff member Becca Bedell (she/they) hosts Queerly Beloved, a discussion group for LGBTQ people of faith.
Read "Queer Theology: Learning from LGBTQ+ Christians" on our blog: a primer for those seeking scriptural and theological grounding for affirming beliefs, with an extensive further reading list.
Listen to sermons (one) (two) preached by queer members of our community for a special service, Queerly Beloved, on 11.18.18.
Introduction to queer resources at Pres House
Racial Justice
At Pres House we strive to shine light on issues of racism and white supremacy in our community, creating space to ask hard questions and seek truth in our faith.
Pres House Ten is a "playlist" of sermons, blogs, and events from our community to encourage ongoing engagement in anti-racist work.
In January 2019, for the annual Break With a Purpose trip, Pres House members traveled to San Antonio and worked closely with Central American refugees to ease their transition out of detention centers. Read their stories here.
Watch the 2018 video produced for the annual Race & Faith event series that Pres House co-sponsors with the Multicultural Student Center and other campus faith partners.
On May 12, 2015 Pres House hosted an open prayer vigil for the campus and downtown community in honor of Tony Robinson, a young African-American man who was shot and killed by a police officer in Madison. Read the news story about the vigil here.
Additional Resources
Below are a few additional sermons and reflections:
Prayer3 is our weekly gathering to learn about issues in our world, call on God to guide us, and respond with action.
You can explore past resources more fully by listening to Sunday sermons, browsing the sermon archives or blog.
If you have experienced racism, sexism, homophobia, transphobia, or any form of discrimination and are looking for someone to talk to, Pastor Erica and other staff and student leaders are available.