Special Events
SPRING 2018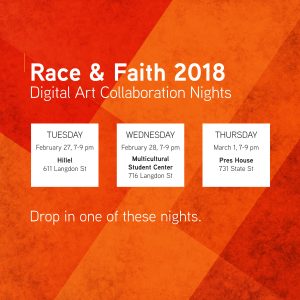 Race and Faith 2018 (Thursday, March 1st,7-9 PM)
Drop in to experience self-guided stations for reflection, discussion, and expression on the intersection of race and faith. Using a variety of art media, the evening will be captured for a collaborative digital media piece by student and community artist. Drop in at a host site between 7-9pm on Tuesday (2/27) @ Hillel, Wednesday (2/28) @ Multicultural Student Center, Thursday (3/1) @ Pres House.
---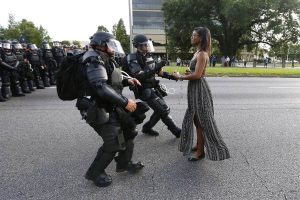 Nonviolence Training Workshops ~ March 16-17th
As Christians we are called to love our enemies while standing up for justice; we are called to be people engaged in non-violent conflict reconciliation. At this workshop, we will learn about Kingian non-violent philosophy and be equipped with practical tools that can be used in relationships, communities, and movements. Click here for more information.
---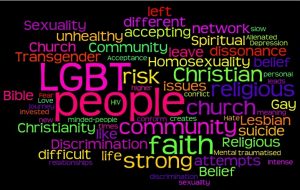 Sexuality & Faith ~ Wednesday, March 14th, 6-7 PM
What's at the intersection of sexuality and faith? Where does faith-based homophobia come from? Where can we make room for LGBTQ+ people in faith communities? What does scripture have to say?
Pres House is an open and affirming community that welcomes the full diversity of God's people. All backgrounds are welcome.
---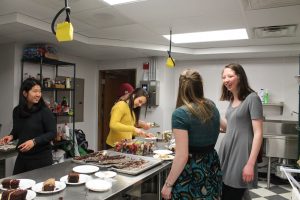 Simple Kitchen ~ Mondays, 6:30 – 8:00 PM (February 12th – March 5th)
Join us for for a 4 week cooking class where we will learn, connect, and share the food we prepare! No cooking experience required; various cooking levels welcome. Space is limited! 4 spots available for church members and 4 spots available for apartment residents. Sign up is first come first served and we will start a waiting list when the spots are full; sign up here.

---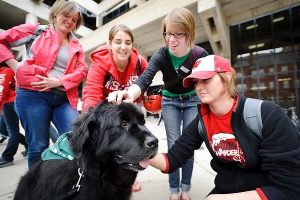 Dogs on Call ~ Tuesday, April 17th, 6:30-8:00 PM
Take a break from studying and work by cuddling with dogs! This is a great way to reduce stress.
---
Check out Facebook for the latest happenings at Pres House!
Have an idea for an event? Some funds are available to support community activities. Contact Erica and fill out the event request form.