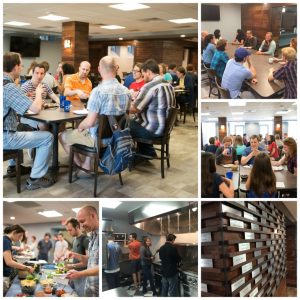 In 2015, with the help of over 180 generous donors who donated more than $700,000, Pres House renovated the basement into a beautiful banquet hall and commercial kitchen. The renovation was completed in May 2015 and we dedicated the space on September 27, 2015 (see photos here.). This project will serve thousands of students in the coming years. You can read and watch more about this exciting and successful project below.
What is the new space called and why?
We are thrilled to announce that the new basement space at Pres House will be called the Cecil "Doc" Lower Hall (Lower is pronounced "lauer"). Beloved pastor, Rev. Cecil "Doc" Lower led the Pres House congregation from 1939-1951. During his tenure the membership at Pres House flourished. There were two worship services every Sunday and two choirs. Along with growing the community, Doc Lower provided a strong foundation of leadership and pastoral care that left life-long imprints on many of the students from that time. He married students, baptized their children, and continued to be a source of spiritual strength long after his time within Pres House walls. For these reasons, and many others, the Pres House Student Leadership Council and Board of Directors has chosen to name the new basement space in his honor. In addition to honoring Doc Lower and a generation of Pres House students who were touched by him, the name contains a fun double meaning. In common usage the basement will be read as the "Lower Hall" which of course is also a nod to the location of the space – in the lower level of Pres House.
The Conger Meeting room within Lower Hall is named after Katinka Conger Stout and her four Conger siblings who attended Pres House from 1941 to 1958.
Watch a video of Katinka Conger Stout and Harriet Conger Soukup talking about their time as students at Pres House and what the basement was like in the 1940s and 50s:
What did this project mean for students and the community at Pres House? 
Watch a video describing how important this project was for Pres House: